open innovation
Get flash to fully experience Pearltrees
The Atlantic Cities is exploring America's rebuilding efforts in a four-part series. This is the final installment. Don't miss parts one , two , and three .
Jean-Yves Huwart vient de me signaler à l'instant la publication de son rapport explorant les nouvelles limites de l'open innovation. Je tiens à partager cette lecture de synthèse car elle permet comme rarement de toucher du doigt les nombreuses modalités de l'open innovation. C'est aussi une bonne manière de comprendre que l'open innovation n'est pas une panacée applicable en suivant une recette linéaire. L'open innovation reste une stratégie collaborative complexe, qui confrontée aux changements économiques de la planète et la persistante accélération technologique, reste en pleine mutation. Et pour citer ce rapport :
in Share 16 Recently I was reminded about one of the most ambitious open innovation projects around – Innovative Medicines Initiative - set up here in Europe. I think you will find this interesting to pick up upon. Without doubt this is one of the most highly ambitious and bold initiative I've come across. I think anyone seriously interested in the combination of open innovation, the use of a collaborative technology platform built around a novel new business model within such a highly competitive industry of Pharmaceuticals should watch this initiative with growing interest.
146 in Share 26 The headline screams like a disaster. It's not really that bad. Yes, Lego took a loss around that size when they decided to shut down their online game, Lego Universe , but they also learned some valuable lessons. Jyllands-Posten, a Danish newspaper, did a story on the closing of Lego Universe, a so-called Massive Multiplayer Online Game (MMOG). It was a good article with interesting comments from Lego executives that were useful to extract some lessons on (open) innovation that go beyond Lego.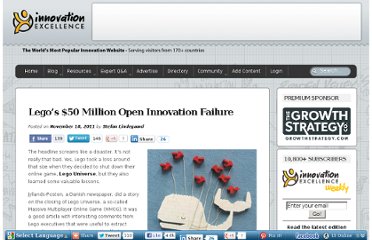 1 in Share 0 Here are four key elements that are necessary for turning an open innovation strategy into a success: 1. Stakeholder Analysis
in Share 1 Today I want to examine a tool that has become a well-worn crutch for many firms, the innovation "funnel". I'm going to argue that we need to rethink the funnel in fundamental new ways if we are to achieve our innovation goals. First, let's get into the mood by recognizing what many people think about an innovation funnel, using a cartoon from Tom Fishburne . Many times a funnel is simply a place to collect ideas, ignore them or hope they'll go away. Remember that we innovators borrowed the idea of a funnel from the sales guys.