Computer stuf
Star Wars Han Solo in Carbonite Ice Cube Tray. Free Community Approved Apps & Services. 45 Epic Blender Tutorials. Ben has over a decade of experience in the computer graphics field and although he's primarily a hard surface modeler, he's also experienced in the fields of UVMapping, Texturing, Lighting and Rendering.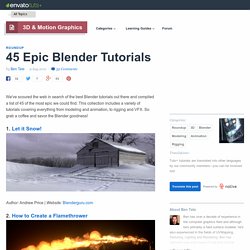 Ben currently co-edits Cgtuts+ along with his brother Chris, and has authored over sixty hours of real-time tutorial content for the site, focusing mainly on 3d Studio Max and hard surface modeling. Along side 3D Studio Max, Ben's has experience with VRay, FumeFX, ZBrush, Mudbox, Mari, PTex, Photoshop, xNormal, UVLayout, Forest Pack Pro and After Effects. You can check out Ben's website to see more of his work. more… 3D Total - The cg artists home page - 2D and 3D graphics resource site //
Java Programming Cheatsheet. This appendix summarizes the most commonly-used Java language features in the textbook.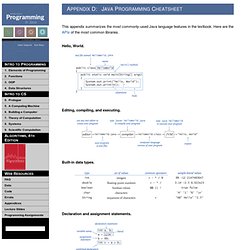 Here are the APIs of the most common libraries. Hello, World. Editing, compiling, and executing. If Windows users want to give themselves some lovin' then you need Ninite ...
---