Fashion
Watermark Tee by Sweet Verbana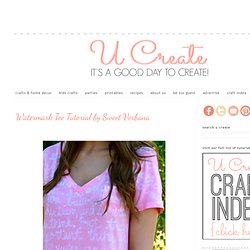 Hello U-Create readers! I am so excited to be guest posting here today. It just so happens to be my first guest post and I'm still a little shocked that it's here at Ucreate, one of my favorite blogs! A little bit about me..
It's September and that means it's time to add another statement piece to your collection…. obviously! I heart almost every piece Nicole Richie designs for House Of Harlow 1960, especially her oversized rings. As amazing as these rings are they're also an easy DIY. My friend Jenni, from I Spy DIY, did a project a few months back where she transformed buttons into earrings. #SuperFab This got me thing…let's transform buttons into statement rings! Buttons, buttons everywhere!!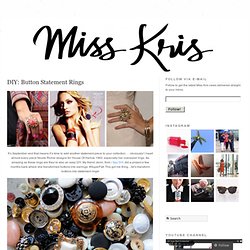 DIY: Button Statment Rings «
Embroidery Designs at Urban Threads - Projects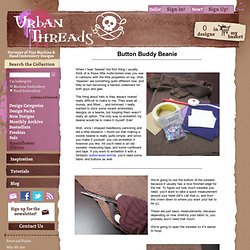 When I hear "beanie" the first thing I usually think of is those little multicolored ones you see in cartoons with the little propellers on top. Well, "beanies" are something quite different now, and they're fast becoming a fashion statement for both guys and gals. The thing about hats is they always looked really difficult to make to me. They were all ... roundy, and fitted ... and brimmed. I really wanted to stick some swank embroidery designs on a beanie, but hooping them wasn't really an option.
Embroidery Designs at Urban Threads - Projects
Now, the next part is not really an exact science. Every shirt is different, and it especially matters if you're dyeing white to dark like me, or maybe just a color to a similar dark color. If you're really unsure about things, you can always test dye a swatch of fabric. In fact, I recommend it, because as I found out, the dye doesn't always behave like you think it will... So! Here's how I did it.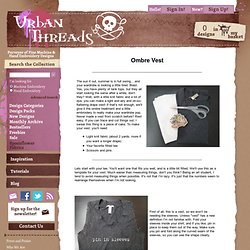 DIY Shift Dress - Martha Stewart Crafts
I have these two t-shirts that I love. They're soft, comfortable, and have good worn (and sentimental) designs on them. But, I never wear them for anything other than around the house because they are large men's t-shirts and look completely shapeless on me. Then I found this great tutorial on YouTube for how to make a big t-shirt a fitted shirt! - T-Shirt Surgery: How to Make a Shirt Fit
Large T-Shirt to Fitted Tee Tutorial | a.steed's.life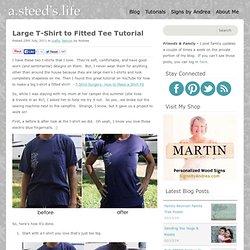 Annie Spandex » How To Make Tank Tops Out Of T-Shirts (Without Touching A Sewing Needle)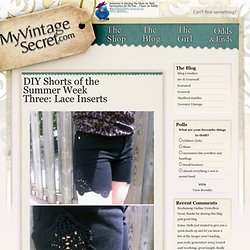 Vintage & Thrift Clothing, Blog, Stores & Toronto Maps- My Vintage Secret
Lace inserts are a popular denim DIY this summer. Usually done with white lace and light denim I wanted to mix it up and try it with black! Sources: (Top Left – Right) 1.
Made By Lex » refashions
Women's Romper Refashion Tutorial April 15, 2011 6:53 am One of the things I love about fashion is things always come back in style. They may have minor tweaks and updates, but most things come back around.