Windows
Popular Files
*Actually Useful* Windows Keyboard Shortcuts - including new Windows 7 tricks. : technology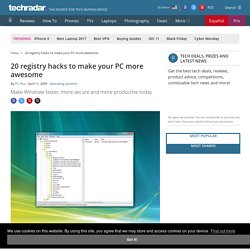 Right-clicking on everything is a good way to learn about hidden Windows functionality. Exploring the lesser-known Control Panel applets is another useful technique, and browsing the command line applications in Windows' System32 folder can be interesting. But let's be realistic. There's nothing that quite compares to the Registry. It's packed with useful settings that can improve performance, fix security holes and change even the most fundamental Windows behaviour for the better.
20 registry hacks to make your PC more awesome
Over the last several years working in IT for various companies as a Systems Administrator, Network Administrator, and Help Desk professional, I've written and learned about many ways to increase the performance of not only my PC, but also of the many PCs on my networks ranging from Windows 98 to Windows Vista. In this article, I hope to compile a complete list of all the different methods and tricks that I've used to get the last bit of juice out of a slow PC. Whether you are using an old PC or the latest and greatest in hardware, you can still use some of these to make your PC run faster. Note that since I write two blogs, Help Desk Geek and Online Tech Tips, I have previously written about many performance tips already which I will link back to throughout. If I have not written about it, I've throw in a link to a relevant article from some of my other favorite sites. This list is in no particular order, just written in the order that I could think of them.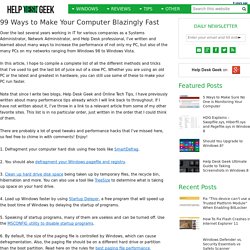 DiskDigger | DmitryBrant.com
Downloads: Fences is a Seriously Awesome Desktop Icon Organizer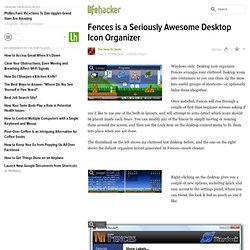 Fences was (and I'm sure still is) very useful, and I have used it myself in the past... until they started insisting that you also install their "installer" (so wait... I'm using Windows Installer to install... YOUR installer... so I can install the 1MB program that I just wanted... to... install?). System Requirements ●Requires: Windows 7, Windows Vista, or Windows XP ●32-bit and 64-bit Windows 7 and Vista are supported.
Gizmo Drive -- Mount ISOs, encrypted hard drive images to a virtual drive
50 Tools to Speed Up or Otherwise Enhance Your PC
From: www.cio.com – Preston Gralla, PC World September 22, 2008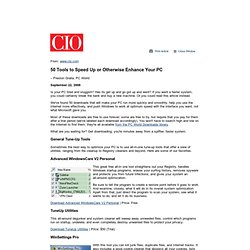 Labs » Projects
The free Backup Software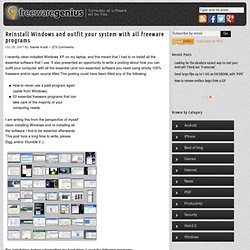 I recently clean installed Windows XP on my laptop, and this meant that I had to re-install all the essential software that I use.