Videos
RADUS :: Wait until you see this.
Our eDiscovery is an objective process supporting your case rather than an invitation for attack by opposing counsel. ACTForensic.com, Inc. provides concise and defined parameters in conducting eDiscovery that will survive the most challenging scrutiny in the courtroom. Our Computer Forensic Investigations support eDiscovery by providing detailed analysis of electronic media beyond searching for target phrases and keywords. ACTForensic.com, Inc. investigators apply practical knowledge and experience to uncover digital evidence pertinent to your case. Strategic Services: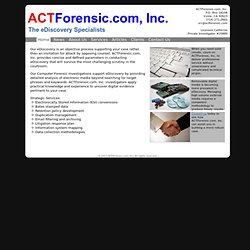 Free DVD Creator: Create & Burn DVD from AVI DivX MPEG WMV MP4 to DVD.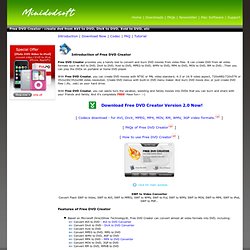 Introduction | Download Now | Codec | FAQ | Tutorial Introduction of Free DVD Creator Free DVD Creator provides you a handy tool to convert and burn DVD movies from video files. It can create DVD from all video formats such as AVI to DVD, DivX to DVD, Xvid to DVD, MPEG to DVD, WMV to DVD, MP4 to DVD, MOV to DVD, RM to DVD...Then you can play the DVDs on portable or home DVD player. With Free DVD Creator, you can create DVD movies with NTSC or PAL video standard, 4:3 or 16:9 video aspect, 720x480/720x576 or 352x240/352x288 video resolution.