Productivity
Collaboration. The Pomodoro Technique. Get Rich Slowly » Negotiating Your Salary: How to Make $1,000 a Minute. Most personal-finance blogs write about cutting expenses.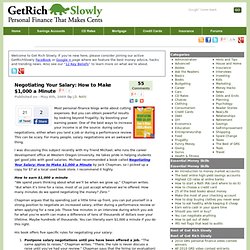 But you can obtain powerful results by looking beyond frugality, by boosting your earning power. One of the best ways to increase your income is at the source: during salary negotiations, either when you land a job or during a performance review. This can be scary. For many people, salary negotiations are an awkward thing. How to Be Jason Bourne: Multiple Passports, Swiss Banking, and Crossing Borders. Is it possible to become invisible without breaking the law?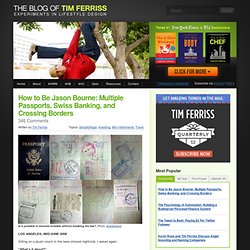 (Photo: gravitywave) Sitting on a plush couch in the neon-infused nightclub, I asked again: "What's it about?" Most Time Management Is Rubbish. Here Are Ten Things That Work for Me. Over the last few years, I've read a ton of time management books and tried out literally hundreds of systems and standalone ideas for maximizing the effectiveness of my time, particularly in terms of my work.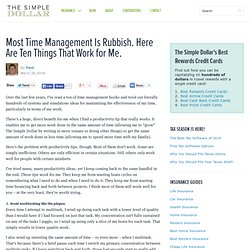 There's a huge, direct benefit for me when I find a productivity tip that really works. It enables me to get more work done in the same amount of time (allowing me to "grow" The Simple Dollar by writing in more venues or doing other things) or get the same amount of work done in less time (allowing me to spend more time with my family). Here's the problem with productivity tips, though. Most of them don't work. Some are simply inefficient. Executor.dk. MiniTask - Minimalist task management.
How to Think Like Leonardo Da Vinci. Edit Article Cultivating CuriosityThinking ScientificallyPracticing Creativity Edited by LifeOptimizer.org, Krystle, Teresa, Sondra C and 28 others Leonardo da Vinci was the ultimate Renaissance man: an accomplished scientist, mathematician, engineer, inventor, anatomist, painter, sculptor, architect, botanist, musician, and writer.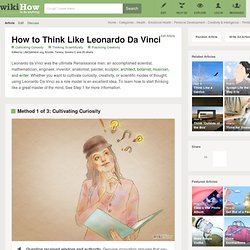 120 Ways to Boost Your Brain Power. Here are 120 things you can do starting today to help you think faster, improve memory, comprehend information better and unleash your brain's full potential.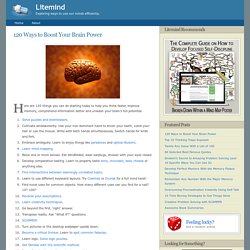 Solve puzzles and brainteasers.Cultivate ambidexterity. Use your non-dominant hand to brush your teeth, comb your hair or use the mouse. Write with both hands simultaneously. Switch hands for knife and fork.Embrace ambiguity. Home. Task Coach. Lazy Productivity: 10 Simple Ways to Do Only Three Things Today | LifeRemix Blog. Editor's note: This post was written by Leo Babauta of Zen Habits.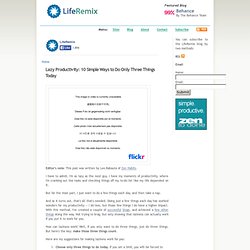 I have to admit, I'm as lazy as the next guy. I have my moments of productivity, where I'm cranking out the tasks and checking things off my to-do list like my life depended on it. But for the most part, I just want to do a few things each day, and then take a nap. Is Your Life Complete? 5 Tips for Living a Fulfilled, Complete Life - Dumb Little Man. Goals are an important part of it, but so are personal and professional relations, passions and desires.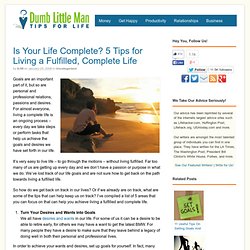 For almost everyone, living a complete life is an ongoing process – every day we take steps or perform tasks that help us achieve the goals and desires we have set forth in our life. It's very easy to live life – to go through the motions – without living fulfilled. Far too many of us are getting up every day and we don't have a passion or purpose in what we do. We've lost track of our life goals and are not sure how to get back on the path towards living a fulfilled life. Spreeder.com - online speed reading application. Keybr.com - Be productive, type faster! 10 Reasons You Aren't Achieving Success - lifehack.org. A couple of months ago, I asked you not to fear failure, saying that embracing failure — or at least the possibility of failure — was essential to success.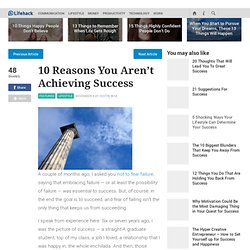 But, of course, in the end the goal is to succeed, and fear of failing isn't the only thing that keeps us from succeeding. I speak from experience here. Six or seven years ago, I was the picture of success — a straight-A graduate student, top of my class, a job I loved, a relationship that I was happy in, the whole enchilada. And then, those successes started slipping away.
Nothing obvious at first, but gradually I found myself stuck in a rut academically, my relationship dissolved, things just weren't going my way. The Courage to Live Consciously by Steve Pavlina. Security is mostly a superstition.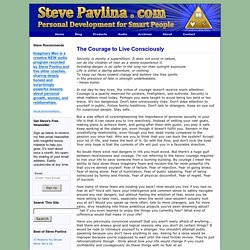 It does not exist in nature, nor do the children of men as a whole experience it. Avoiding danger is no safer in the long run than outright exposure. Life is either a daring adventure, or nothing. To keep our faces toward change and behave like free spirits in the presence of fate is strength undefeatable. - Helen Keller. How to Learn More and Study Less | zen habits. Photo by fatal Cleopatra Editor's note: This is a guest post written by Scott Young.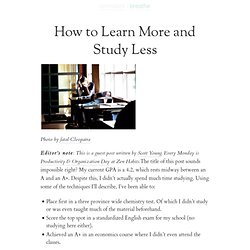 Every Monday is Productivity & Organization Day at Zen Habits.The title of this post sounds impossible right? My current GPA is a 4.2, which rests midway between an A and an A+. Despite this, I didn't actually spend much time studying. Using some of the techniques I'll describe, I've been able to:
---