Photo
Media website management the easy way! Zenphoto is a standalone CMS for multimedia focused websites. Our focus lies on being easy to use and having all the features there when you need them (but out of the way if you do not.) Zenphoto features support for images, video and audio formats, and the Zenpage CMS plugin provides a fully integrated news section (blog) and custom pages to run entire websites. This makes Zenphoto the ideal CMS for personal websites of illustrators, artists, designers, photographers, film makers and musicians. Manage your image, video and audio files!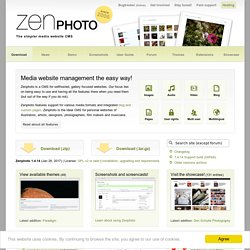 imagin - Flash Photo Gallery
The look and message of an advertisement will obviously have a huge impact on the success of the marketing campaign. Here is a list of 15 tutorials that will help you to create more attractive and eye-catching advertisements with Photoshop. You may also be interested in the following collections of Photoshop tutorials: Design a Professional Laptop Advert – PSDFAN PSDFAN is a new tutorial blog, but there's already some high-quality work there, including this one.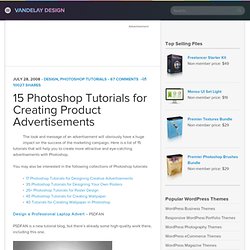 15 Photoshop Tutorials for Creating Product Advertisements | Vandelay Website Design