Conciencia
Gérard Sabah Groupe Langage et Cognition LIMSI -- CNRS " La conscience est au psychologue ce que la gravité est au physicien : inévitable. " (Baars) Pendant de longues années, les chercheurs en intelligence artificielle et en sciences cognitives se sont gardés d'aborder le thème de la conscience, qui apparaissait comme une notion trop vague pour permettre une étude scientifique et pour fonder la cognition. Des Grecs à Descartes, les rapports entre le cerveau et l'esprit sont fondés sur le dualisme et l'interaction d'un corps et d'un esprit matériels. Descartes fut le premier à tenter d'expliciter comment un esprit non matériel interagissait avec le corps (par l'intermédiaire de la glande pinéale).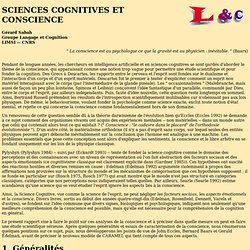 Conscience
I. The Terrestrial Circuits 1.
The 8-Circuit Model of Consciousness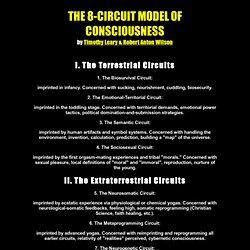 Consciousness
Damasio defines consciousness as "the sense of self in the act of knowing . . . a narrative without words" (Damasio, 2000, p. 168) , with characters – the organism (us) and the object (everything we encounter) – unfolding in time. He describes 'simple' and complex kinds of consciousness differentiating between 'core consciousness' and 'extended consciousness'. Core consciousness (the 'here and now' consciousness), he says, generates an imaged, nonverbal account of the organism's own state as affected by the 'object' in a spatial and temporal context and a sense-of-self (in the act of knowing). The sense of self in core consciousness is experienced as a subtle, transitory "feeling of knowing, constructed anew in each pulse." Damasio grounds the sense-of-self component on the following core hypotheses: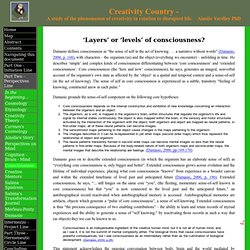 Extended consciousness
In biological psychology , extended consciousness is an animal's autobiographical self-perception. Extended consciousness is said to arise in the brain of animals with substantial capacity for memory and reason . It does not necessarily require language . The perception of a historic and future self arises from a stream of information from the immediate environment and from neural structures related to memory.
Dan Dennett | Profile on TED.com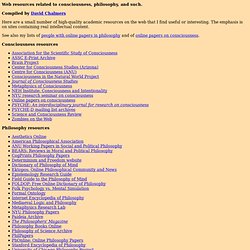 Web resources on consciousness, philosophy, and such
Web resources related to consciousness, philosophy, and such. Compiled by David Chalmers Here are a small number of high-quality academic resources on the web that I find useful or interesting. The emphasis is on sites containing real intellectual content.
A mirror neuron is a neuron that fires both when an animal acts and when the animal observes the same action performed by another. [ 1 ] [ 2 ] [ 3 ] Thus, the neuron "mirrors" the behavior of the other, as though the observer were itself acting. Such neurons have been directly observed in primate and other species including birds . In humans, brain activity consistent with that of mirror neurons has been found in the premotor cortex , the supplementary motor area , the primary somatosensory cortex and the inferior parietal cortex .