Referentes
Tendencias del diseño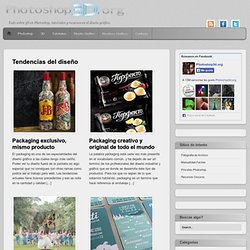 Packaging exclusivo, mismo producto El packaging es una de las especialidades del diseño gráfico a las cuales tengo más cariño. Poder ver tu diseño fuera de la pantalla es algo especial que no consigues con otras ramas como podría ser el trabajo para web.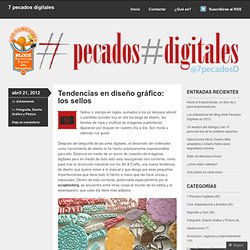 Tendencias en diseño gráfico: los sellos « 7 pecados digitales
Sellos, o stamps en inglés, sumados a los ya famosos stencil o plantillas inundan hoy en día los blogs de diseño, las tiendas de ropa y multitud de imágenes publicitarias. Aparecen por doquier en nuestro día a día. Son moda y además nos gusta. Después del despunte de las artes digitales, el desarrollo del ordenador como herramienta de diseño lo ha hecho prácticamente imprescindible para ello. Estamos en medio de un boom de creación de imágenes digitales pero en medio de todo esto está resurgiendo otra corriente, como pasó tras la revolución industrial con los Art & Crafts, una nueva tendencia de diseño que quiere volver a lo manual y que aboga por esas pequeñas imperfecciones que tiene todo lo hecho a mano que las hace únicas y especiales.
Estas tendencias creemos que ya han quedado claras en el 2011 pero vamos a dejároslas aquí para que meditéis si es este o no el camino que van a seguir en el 2012 los social media:1ª Tendencia: Auge de los sitios móviles A finales del 2013 se cree que los usuarios de Internet a través de los dispositivos móviles superarán a los que los usuarios que entran a través de los PCs. ¿Tienes un sitio móvil? ¿Tu web se adapta a que pueda ser percibida desde cualquier dispositivo móvil de una forma adecuada?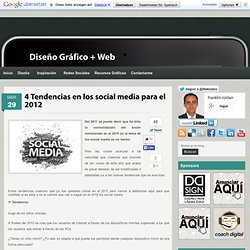 4 Tendencias en los social media para el 2012 : Diseño Gráfico + Web
Tendencias y conceptos en diseño gráfico y publicidad 2012 ~ Juance DG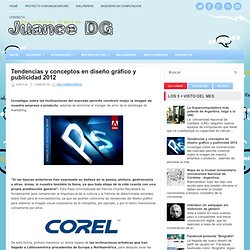 Investigar sobre las inclinaciones del mercado permite construir mejor la imagen de nuestra empresa o producto, además de aminorar el margen de error de la estrategia de marketing. "Si las épocas anteriores han expresado su belleza en la poesía, pintura, gastronomía y otras áreas, la nuestra también la tiene, ya que toda etapa de la vida cuenta con una propia predilección general". Esta frase inmortalizada del francés Charles Baudelaire es fundamental para comprender la importancia de la cultura y la historia de determinada sociedad, sobre todo para la mercadotecnia, ya que así podrían conocerse las tendencias del diseño gráfico para elaborar la imagen visual corporativa de la compañía, por ejemplo, y por lo tanto mantenerse competente por años. De esta forma, primero haremos un breve repaso de las inclinaciones artísticas que han llegado a Latinoamérica procedentes de Europa y Norteamérica, para después tocar las que actualmente son más consideradas en el mundo de los negocios.
Graphic Design and Typography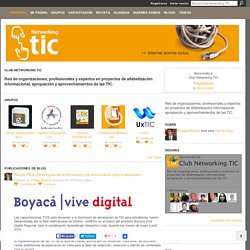 Cordial saludo, Gracias por el interés en el debate en línea "Hablemos de alfabetización informacional, apropiación y aprovechamientos de las TIC". El debate será realizado con la herramienta Google+ HangOut y transmitido en directo en la página principal del Club Networking TIC www.networking-tic.com el día jueves 28 de febrero, de 6 a 7 p.m. hora Bogotá - (UTC/GMT -05:00). Para poder participar se requiere que estar inscrito en la red. Si aún no es miembro, puede hacerlo en: http://www.networking-tic.com/main/authorization/signUp?
J.F. Travieso - Foto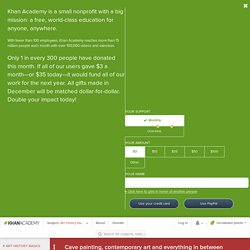 Are you an art historian, archaeologist or conservator? Look at a Trello Board of most needed content and "claim" an essay to write! If something important is missing, let us know. Contact us to be added to the Trello Board: beth[at }khanacademy.org or steven[at ]khanacademy.org. We anticipate more than two million visitors from around the globe for the fall 2013 semester.
Destruction in Port-au-Prince, Then and Now
Info-Visualization Through the Eyes and Talent of 10 Brazilian Designers
This is a guest post by Tiago Veloso from Visual Loop – a non-stop stream of Infographics, Maps, Charts and many other Visualization Goodies, with lots of new posts everyday. User submissions are always welcome, opened to artists and designers from all over the world.. After reading here on Inspired Mag the excellent post Shell Harris from Infographics Showcase wrote, on the growing fascination that computer graphics has been exercising in the world, I've decided to bring some examples from Brazil – where I currently live.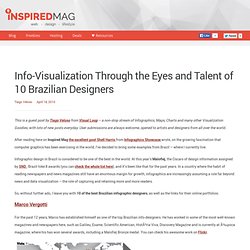 The New York Times - Innovation Portfolio
Angela Hayden ART GODDESS Brainstorming Poster, Shop, and Book
Be yourself be alive chase the wind kiss the sun look inside be kind love yourself precious soul you are pure you are loved waters flow light is subtle show the world your views Pavlov's Response domestic violence it starts out subtle starve little by little until you don't realize your starving slowly conditioned to accept a morsel for a meal and then feel grateful and undeserving Walk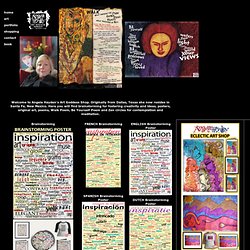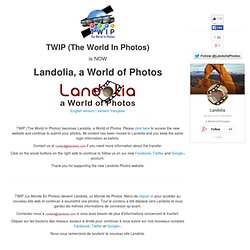 Paris - Show de Slides - The World in Photos
is NOW English version | Version française TWIP (The World In Photos) becomes Landolia, a World of Photos. Please click here to access the new website and continue to submit your photos.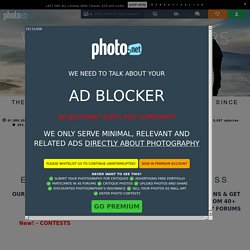 Tamron SP 180mm f/3.5 Di Macro LD-IF Review by Bob Atkins, January 2014 Check out Bob Atkins' positive review of the new Tamron SP 180mm Di Macro Lens! Read More Fujifilm FinePix XP200 Review by Dan Bailey, January 2014
REPUBLICA DE HONDURAS
Por; Jorge Federico Pesa a veces la vida y el hombre desespera. Pesa el pesar y pesa la vida que no fue la esperanza musita: espera, espera, espera y el corazón cansado responde: ¿para qué? ¡Cuando yo sea grande! Oh, frase verde y fresca que florece en los labios cuando principia abril ¡Cuando yo sea grande! espera, espera, espera, y la niñez se pierde prendida al porvenir.