Referentes
Tendencias del diseño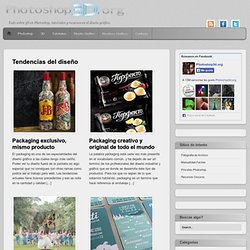 Ejemplos de Newsletter o mailing creativos Hoy os traemos un post muy original, se trata de muestras de mailings o newsletter creativas por si buscas inspiración. El mailing o newsletter cobra cada vez mayor importancia, es un método económico, fiable y directo con el que distintas organizaciones pueden mantener a sus clientes informados acerca de novedades, promociones o anuncios especiales.
Abrir el ojo equivale a estar atento, a estar al día de todo lo que pasa para estar bien informados. Éste es el objetivo con el que Javier Olivares fundó la revista digital en abril de 2005, tomando su nombre de la obra de teatro que escribiera Rojas Zorrilla, una comedia en la que los caballeros no lo son tanto, las damas se niegan a ser floreros decorativos y los pícaros hacen carrera a base de la ignorancia de quienes se creen muy listos.
¿Qué es Abre el Ojo? | Abre el Ojo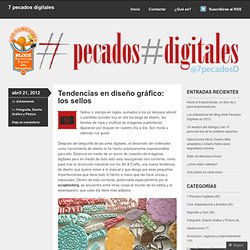 Tendencias en diseño gráfico: los sellos « 7 pecados digitales
Sellos, o stamps en inglés, sumados a los ya famosos stencil o plantillas inundan hoy en día los blogs de diseño, las tiendas de ropa y multitud de imágenes publicitarias.
Estas tendencias creemos que ya han quedado claras en el 2011 pero vamos a dejároslas aquí para que meditéis si es este o no el camino que van a seguir en el 2012 los social media: 1ª Tendencia: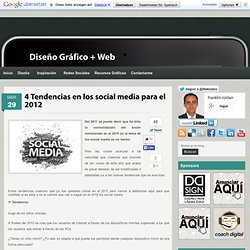 4 Tendencias en los social media para el 2012 : Diseño Gráfico + Web
Tendencias y conceptos en diseño gráfico y publicidad 2012 ~ Juance DG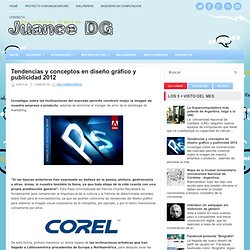 Investigar sobre las inclinaciones del mercado permite construir mejor la imagen de nuestra empresa o producto , además de aminorar el margen de error de la estrategia de marketing. "Si las épocas anteriores han expresado su belleza en la poesía, pintura, gastronomía y otras áreas, la nuestra también la tiene, ya que toda etapa de la vida cuenta con una propia predilección general".
Graphic Design and Typography
J.F. Travieso - Foto
Destruction in Port-au-Prince, Then and Now
Info-Visualization Through the Eyes and Talent of 10 Brazilian Designers
If you're new on INSPIRED [the web design lifestyle mag], you may want to subscribe to our RSS feed & Newsletter for extra goodies. Thanks for visiting! This is a guest post by Tiago Veloso from Visual Loop – a non-stop stream of Infographics, Maps, Charts and many other Visualization Goodies, with lots of new posts everyday.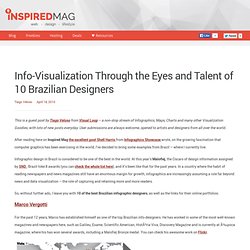 The New York Times - Innovation Portfolio
Angela Hayden ART GODDESS Brainstorming Poster, Shop, and Book
Be yourself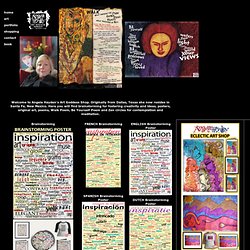 Paris - Show de Slides - The World in Photos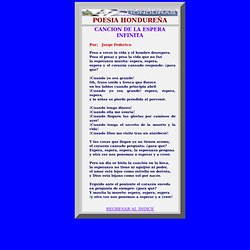 REPUBLICA DE HONDURAS
Por; Jorge Federico Pesa a veces la vida y el hombre desespera.