Ferramentas
If you want to know what's happening in the social web you need social media monitoring tools. Before you reach for your wallet and start to spend money try out some of the free social media monitoring services . This way you will get an understanding of what is available and if you need any paid services. I have collected 54 free social media monitoring tools. In the Group A are the services that I use regularly or seem interesting to check out immediately.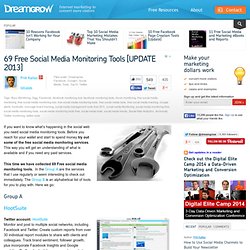 Twittie - smart twitter analytics
The most easy-to-use online survey software around. | Surveydaddy.com
BandRx - The easiest way to customize your band's Facebook Page. Period.
Install ActiveInbox | ActiveInbox: Better GMail Plugin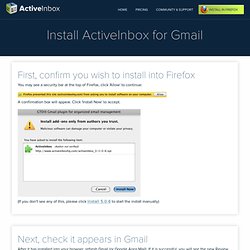 First, install into Chrome
delavè
All plans come with a 14 day Free Trial and a 100% money-back Satisfaction Guarantee Pricing Guarantee - Your monthly price will never change regardless of any future pricing plan changes! Please Note: You will be prompted to login when purchasing. If it's your first time logging in to our fanBuildr website, you will need to sign-up (takes just seconds).
Hosted iFrame App
Welcome (1)
Iwipa
Create a Facebook Page | Custom Fan Page Design - Pagemodo
Is there a setup fee? There is no setup fee when using SnapEngage. Can I change my plan? Absolutely. You can upgrade, downgrade, or cancel your account any time. How do monthly payments work?