Lucascastro
Lucas Castro
@lucasparisi
Children's Media Use in America 2013 Infographic from Common Sense Media
Social Media Brasil 2010 - Dia 24 - #smbr | Flickr – Compartilhamento de fotos!
Para onde vai o Twitter?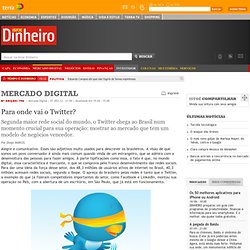 Nº edição: 792 | Mercado Digital | 07.DEZ.12 - 21:00 | Atualizado em 17.01 - 09:55 Alegre e comunicativo. Esses são adjetivos muito usados para descrever os brasileiros.
FourScore
Zaheer Nooruddin Asia Digital Social Media Regional Director | Social Media, Mobile and Digital Influence Asia Pacific l D/BM l Digital Burson-Marsteller Asia Pacific Zaheer Nooruddin
The governments of almost two-thirds of the 193 UN member countries have a presence on Twitter: 45% of the 264 accounts analysed are personal accounts of heads of state and government, but just 30 world leaders tweet themselves and very few on a regular basis. Twitter has become a new way to communicate with world leaders and a way for these leaders to communicate with each other. On the one hand it allows heads of state and government to broadcast their daily activities and government news to an ever-growing audience, on the other, it allows citizens direct access to their leaders.
VALOR - SÃO PAULO - Início de ano costuma ser o momento ideal para refletir sobre a carreira e pensar em como avançar profissionalmente. Se o primeiro passo geralmente é apostar nas resoluções e criar metas para si mesmo, o próximo costuma ser arranjar os meios de alcançá-las.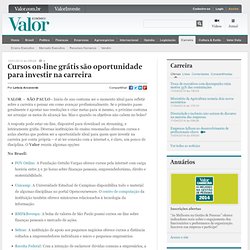 Cursos on-line grátis são oportunidade para investir na carreira
A while back I reached out to friends in the Social Media organizations at Ford, Comcast and Dell.
How Top Brands Measure Social Media Success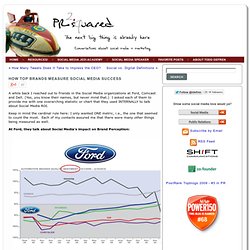 Educopédia