Tech Trends
Who's to Blame:Us As much as we love the open, unfettered Web, we're abandoning it for simpler, sleeker services that just work. by Chris Anderson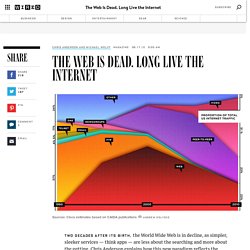 2 September 2010Last updated at 13:45 By Jonathan Fildes Technology reporter, BBC News Africa is now encircled with high-speed internet cables The global disparity in fixed broadband access and cost has been revealed by UN figures. The Central African Republic is the most expensive place to get a fixed broadband connection, costing nearly 40 times the average monthly income there. Macao in China is the cheapest, costing 0.3% of the average monthly income. Niger becomes the most expensive place to access communication technologies, when landlines and mobiles are also taken into account.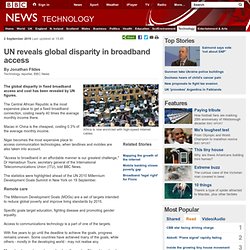 UN reveals global disparity in broadband access
Egham, UK, , August 4, 2010 View All Press Releases Gartner Analysts to Discuss the Changing Nature of Work at Gartner Portals, Content and Collaboration Summit 2010 in London, UK, September 15-16   The world of today is dramatically different from 20 years ago and with the lines between work and non-work already badly frayed, Gartner, Inc. predicts that the nature of work will witness 10 key changes through 2020.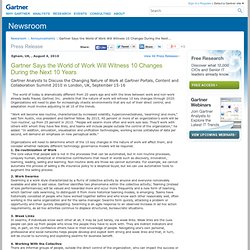 Says the World of Work Will Witness 10 Changes During the Next 10 Years
Spammers Make 57,000 Fake Web Sites a Week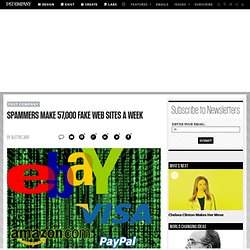 Spammers and hackers are constantly trying to take advantage of unsuspecting consumers (also known as my parents) online. According to a three-month study by antivirus developer PandaLabs, these cyber-criminals are creating around 57,000 new fake websites every week. That's close to 3 million per year.
prUS22445710
In a little more than a week, the tech industry has lost its M&A mind. As technology companies stretch for growth they are reaching for acquisitions in the name of diversification and showing a willingness to overpay for assets. To wit: Dell decides to pay $1.15 billion for 3Par, a high-end storage company that had a market cap just north of $600 million or so just a week ago.
Tech companies' vision hampered by growth goggles as M&A picks up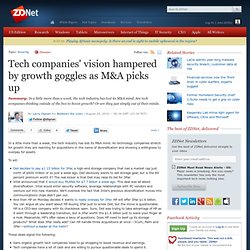 Two-and-a-half years ago, we described eight technology-enabled business trends that were profoundly reshaping strategy across a wide swath of industries. We showed how the combined effects of emerging Internet technologies, increased computing power, and fast, pervasive digital communications were spawning new ways to manage talent and assets as well as new thinking about organizational structures. Since then, the technology landscape has continued to evolve rapidly. Facebook, in just over two short years, has quintupled in size to a network that touches more than 500 million users. More than 4 billion people around the world now use cell phones, and for 450 million of those people the Web is a fully mobile experience.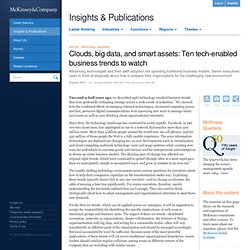 Just ahead of tomorrow's official Intel Developer Conference (IDF) debut [follow the Keynote live at live.ubegrizmo.com @ 9am PT], the world's largest chipmaker was showing a few of its current R&D projects. This is Research, so not all of them (if any) will make it as products, but some were promising, while others were just cool to watch. Here's what caught our eyes and ears tonight, and if you are attending IDF this week, you might have a chance to see them in action: In-vehicle context awareness
Intel R&D's vision of the future ahead of IDF