New Tools for PR
hNews 0.1
This document represents a draft microformat specification. Although drafts are somewhat mature in the development process, the stability of this document cannot be guaranteed, and implementers should be prepared to keep abreast of future developments and changes. Watch this wiki page, or follow discussions on the #microformats Freenode IRC channel to stay up-to-date. hNews is a microformat for news content. hNews extends hAtom, introducing a number of fields that more completely describe a journalistic work. hNews also introduces another data format, rel-principles, a format that describes the journalistic principles upheld by the journalist or news organization that has published the news item. hNews will be one of several open standards. Draft Specification Editor/Author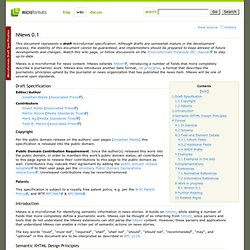 Media monitoring & public relations TV search solution - SnapStream Enterprise
This Oscar-winning doc is still required viewing for activists, cinephiles, and... everyone else. "Fatal Attraction" meets "Election" in this stunning portrait of obsession. What Jay & Beyoncé are to music, Linda & Burt were to obsessive stalking. Remade as indie hit "Prince Avalanche" with Paul Rudd. Check out the Icelandic original.

People Powered Magazines | Printcasting
Locksmiths tend to be genial people. They're therefore kind that they'll drive to your residence just to open up the door for you personally. Naturally, you need to call them very first and tell them you secured yourself out. Once you get past that awkward moment, you'll be happy you got to know this particular friendly, professional technician that is on call twenty-four hours a day. Many people prefer to think that they are able to install adequate locks as well as properly secure their homes simply by themselves. Could can be an preliminary money saving plan, it really is the most unsafe choice you could choose.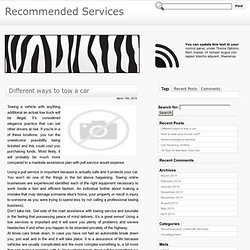 Google Launches Blog Finder for Any Topic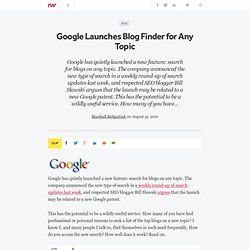 Google has quietly launched a new feature: search for blogs on any topic. The company announced the new type of search in a weekly round-up of search updates last week, and respected SEO blogger Bill Slawski argues that the launch may be related to a new Google patent. This has the potential to be a wildly useful service. How many of you have had professional or personal reasons to seek a list of the top blogs on a new topic? I know I, and many people I talk to, find themselves in such need frequently. How do you access the new search?
New Site Aims to Connect Reporters and Publicists
Top 25 Social Media Keyword Search Tools and Engines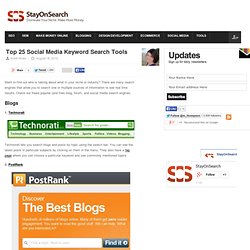 Want to find out who is talking about what in your niche or industry? There are many search engines that allow you to search one or multiple sources of information to see real time results. Check out these popular (and free) blog, forum, and social media search engines. Blogs