Research Intro
Links to sites included in the research introduction presented to Elena Dowers' ENG102 classes at Glendale Community College North on Feb. 7, 2012. Feb 7
Home Page GCC Library
Find Journals: A-to-Z
Browse the Contemporary Issues Collection by publication date (descending) : GCC North - GCC Main Note: Browses only the following series: Opposing Viewpoints, Current Controversies, At Issues, and Contemporary World Issues. To view all titles, go to the Pro/Con table at the library. Search the Contemporary Issues Collection
Book Search: Pro-Con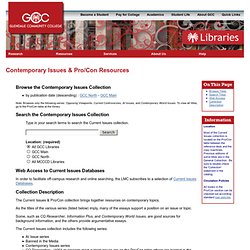 Databases by Subject (title)
Credo Reference
Gale Power Search
Academic Search Premier
Contemporary Issues Databases
Issues: Opposing Viewpoints
Not a subscriber? Infobase Learning has databases and streaming video collections for every school, college, and library. Please note: we do not provide trial access to individuals or businesses.
Pro/Con: Issues & Controversies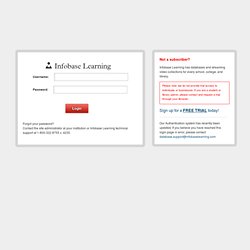 Pro/Con: CQ Researcher
Citation Guides - LMC @ GCC
ASK-A-LIBRARIAN (Chat) Chat with a librarian from one of the MCCCD libraries or other colleges for real-time help. E-MAIL: If you have a brief question or need some help beginning your research, submit your request to us by e-mail. Just click on the email link and fill out the form. A librarian will respond in 24 to 48 (24 to 72 hours during summer sessions) hours, excluding weekends and holidays. The E-mail and other reference services are not available during semester break and holiday periods. GCC Main: Come to the Information/Reference Desk at the west end of the Library Media Center.
Ask-a-Librarian
cache: Show the cached snapshot of a pageSample search: Cache of www.searchcommands.com The cache is the search engine's copy of a page in its index.
Google Search Commands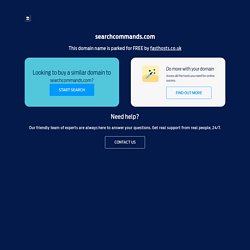 Checkdomain.com