Dynamique moléculaire
AMMP is a modern full-featured molecular mechanics, dynamics and modeling program.
AMMP
Document Actions The Molecular Modelling Toolkit (MMTK) is an Open Source program library for molecular simulation applications. In addition to providing ready-to-use implementations of standard algorithms, MMTK serves as a code basis that can be easily extended and modified to deal with standard and non-standard problems in molecular simulations. The three most common usage patterns of MMTK are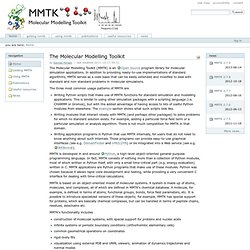 MMTK
The VASP
Skip navigation STFC Home > Computational Science and Engineering Department Home > Research and Development > Computational Chemistry > Software > DL_POLY > The DL_POLY Molecular Simulation Package CSE Home
The DL_POLY Molecular Simulation Package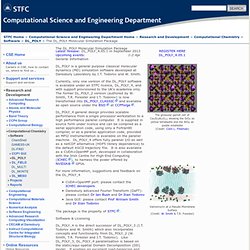 Linux and Chemistry
Great Free and Open Source Molecular Modeling Software List
Scientists have always been looking for Molecular Modeling software, which enables them to view structure of molecules in 2D and 3D space, rotate them as they wish, unders tand molecular patterns, DNA/RNA structures etc. These are highly focused/specialized software with lots of software development costs involved from scientific research companies. Interestingly, there are quite a few Open Source tools that can help one understand the Molecule details, perform molecule modeling etc. This is really encouraging for those who admire and support such open software tools.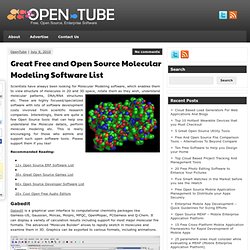 Mercury Mercury offers a comprehensive range of tools for structure visualisation and the exploration of crystal packing. PyMOL PyMOL is a USER-SPONSORED molecular visualization system on an OPEN-SOURCE foundation. SCHAKAL is a FORTRAN program for the graphic representation of molecular and solid-state structure models. VESTA is a 3D visualization program for structural models, volumetric data such as electron/nuclear densities, and crystal morphologies.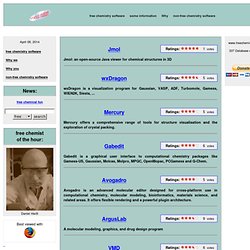 free chemistry software
OVITO - The Open Visualization Tool
This is a list of computer programs that are predominantly used for molecular mechanics calculations. Min - Optimization , MD - Molecular Dynamics , MC - Monte Carlo , REM - Replica exchange method, QM - Quantum mechanics , Imp - Implicit water, GPU - GPU accelerated . Y - Yes. I - Has interface.
List of software for molecular mechanics modeling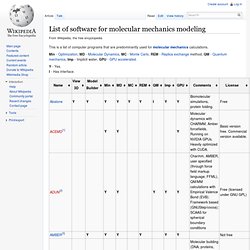 Packmol
Spotlight: Probing Parkinson's (Apr 2007) SDSC News Release : SDSC and UC San Diego researchers are using NAMD to zero in on the causes of Parkinson's disease, Alzheimer's disease, rheumatoid arthritis and other diseases . The April 2007 FEBS Journal cover story offers—for the first time—a model for the complex process of aggregation of a protein known as alpha-synuclein, which in turn leads to harmful ring-like or pore-like structures in human membranes, the kind of damage found in Parkinson's and Alzheimer's patients.
NAMD - Scalable Molecular Dynamics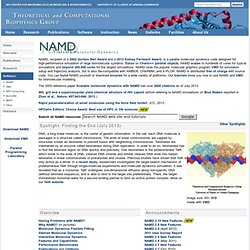 VMD - Visual Molecular Dynamics
News and Announcements Lattice microbes: High-performance stochastic simulation method for the reaction-diffusion master equation , J. Comp. Chem. 2013 Force Field Toolkit (FFTK) tutorial screencasts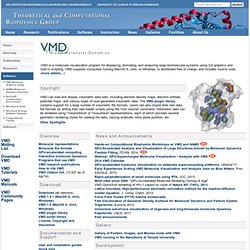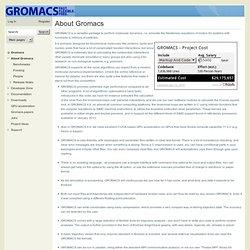 Gromacs
Table of contents No headers GROMACS is a versatile package to perform molecular dynamics, i.e. simulate the Newtonian equations of motion for systems with hundreds to millions of particles. It is primarily designed for biochemical molecules like proteins, lipids and nucleic acids that have a lot of complicated bonded interactions, but since GROMACS is extremely fast at calculating the nonbonded interactions (that usually dominate simulations) many groups are also using it for research on non-biological systems, e.g. polymers.
Computational Materials Science - NCSU Department of Materials Science and Engineering
Molecular dynamics
Molecular dynamics
Molecular dynamics ( MD ) is a computer simulation of physical movements of atoms and molecules . The atoms and molecules are allowed to interact for a period of time, giving a view of the motion of the atoms. In the most common version, the trajectories of atoms and molecules are determined by numerically solving the Newton's equations of motion for a system of interacting particles, where forces between the particles and potential energy are defined by molecular mechanics force fields . The method was originally conceived within theoretical physics in the late 1950s [ 1 ] [ 2 ] but is applied today mostly in chemical physics , materials science and the modeling of biomolecules . Because molecular systems consist of a vast number of particles, it is impossible to find the properties of such complex systems analytically; MD simulation circumvents this problem by using numerical methods.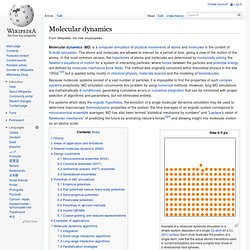 CP2K homepage
ABINIT
LAMMPS Molecular Dynamics Simulator
LAMMPS-ICMS - Homepage of Axel Kohlmeyer
Development on LAMMPS-ICMS has been put on the back burner while other projects require attention. Latest improvements are updates of all pppm styles to support the new pppm base class with support for the "ad" differentiation scheme that requires less parallel FFTs. Furthermore the msm kspace style has now /cg, /omp, and /cg/omp variants. Also the pppm*/omp and msm*/omp pair styles have been subject to code optimizations, that are particularly visible in variable cell simulations.