Crazy shit
Get flash to fully experience Pearltrees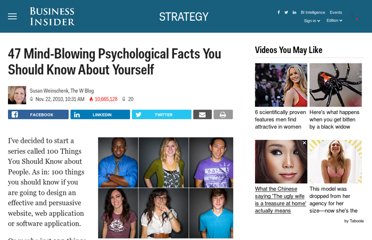 WHAT YOU ARE ABOUT TO READ IN THE NEXT PARAGRAPH IS COMMONLY BELIEVED, BUT NOT TRUE – You read by recognizing the shapes of words and groups of words. Words that are in all capital letters all have the same shape: a rectangle of a certain size. This makes words displayed in all uppercase harder to read than upper and lower case (known as "mixed case"). Mixed case words are easier to read because they make unique shapes, as demonstrated by the picture below. OK, NOW THE TRUE STUFF STARTS — When I started this article the topic was supposed to be why all capital letters are harder to read. Like most people with a usability background or a cognitive psychology background, I can describe the research — just what I wrote in the first paragraph above.
Much of the talk around the tech world recently has been focused on Project Glass – aka Google Glasses – the wearable heads of display that many think could revolutionize the way we interact with apps, photos, video, and really the internet in general.
What's more fun than hanging out with your friends, getting plastered, and making an ass of yourself? Playing drinking games , hanging out with your friends, getting plastered, and making an ass of yourself. I'm sure in your years of wisdom and experience, you've come across a few drinking games. Here are some of your favorites and most likely some you've never seen. 1. Across the Bridge
Looking at the numbers above, you'll immediately notice that you are different ages on the different planets. This brings up the question of how we define the time intervals we measure. What is a day? What is a year? The earth is in motion.
| Browse the Best of RHF: " General Jokes 90-92 " | (funny) Let's: ...make like a tree and leave. ...make like a shepherd and get the flock outta here. ...make like a bird and flock off ...make like horse sh!