SEO
SEO Tools
General Optimisation. 5 Reasons Why You Need to Use Rel=Author on Your Content. By Jill Whalen Have you heard of Google's Authorship program yet?
Whether you've heard of it or not, you've likely seen its fruits in the search results. Integrated Marketing – From SEO to TV (Any Betts) Andy Betts is a well respected marketing expert in the search industry.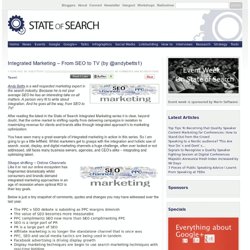 Because he is not your average SEO he has an interesting take on all matters. A person very fit to write about integration. And he goes all the way, from SEO to TV! SEO Best Practices For HTML5: Truths, Half-Truths & Outright Lies. During a panel at SMX Advanced 2011 in Seattle, I remember hearing a question about Schema.org tags.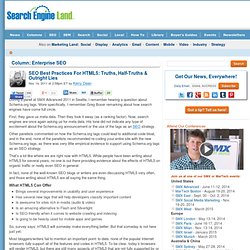 More specifically, I remember Greg Boser remarking about how search engines have come full circle. First, they gave us meta data. Then they took it away (as a ranking factor). Open Site Explorer. Google Algo Changes and Google Manual Reviews - How It Works. And How Human Raters Affect Your Rankings Ever have a web page that finally gets to Page 1 for your keyword – and then suddenly plummets to nowhere land?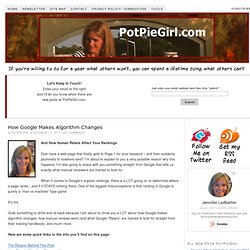 I'm about to explain to you a very possible reason why this happens. I'm also going to share with you something straight from Google that tells us exactly what manual reviewers are trained to look for. When it comes to Google's organic rankings, there is a LOT going on to determine where a page ranks…and if it STAYS ranking there. SEO Pricing Models: How Much Should You Charge? For six years now, I've been the founder, CEO, and president of a search engine optimization company, and I've maintained one additional role, that I soon hope to relinquish.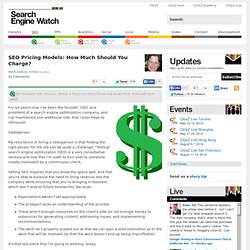 Salesperson. My reluctance in hiring a salesperson is that finding the right person for the job can be quite a challenge. "Selling" search engine optimization (SEO) is a very consultative venture and one that I'm loath to turn over to someone mostly motivated by a commission check. Selling SEO requires that you know the space well, and that you're able to balance the need to bring revenue into the company while ensuring that you're bringing in business which won't lead to future headaches, because: Expectations weren't set appropriately.
Search Marketing Salon Group News. Improving the Online Marketing presence of an Ecommerce website is usually a very challenging task.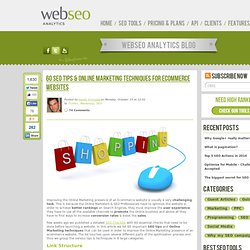 This is because the Online Marketers & SEO Professionals have to optimize the website in order to achieve better rankings on Search Engines, they must improve the user experience, they have to use all the available channels to promote the Online business and above all they have to find ways to increase conversion rates & boost the sales. Few weeks ago we published a detailed SEO Checklist with 60 essential checks that need to be done before launching a website. In this article we list 60 important SEO tips and Online Marketing techniques that can be used in order to improve the Online Marketing presence of an ecommerce website. The list touches upon several different parts of the optimization process and thus we group the various tips & techniques in 8 large categories.
How To Create Your Digital Footprint With Links. At the SMX Advanced Conference in Seattle last June, Google announced it was supporting the HTML5 "rel" attribute in anchor tags for the "author" and "me" variables.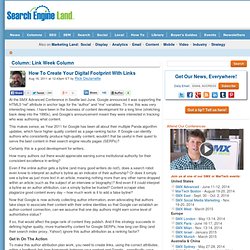 To me, this was very interesting news. I have been in the business of content development for a long time (stretching back deep into the 1990s), and Google's announcement meant they were interested in tracking who was authoring what content. 29 SEO Experts Share the Most Compelling Content that Influenced Their Works. The Internet still stands as the greatest invention of mankind, thus far, in my opinion.
Since its creation, the Internet has made almost everything in reach, whether it's through trading, communication, entertainment and most extensively with information, wherein any sort of information were made very accessible to people, worldwide, over the web. This concept of the web allowed many of us to build professions out of it, which have evidently caused for more human ideologies to transcend its usual capacity, making this generation much wiser (judging from how most users make use of the web's potentials these days).
Speaking of professions, I believe that Search is one of the most challenging fields in the Internet industry, as this field's competitiveness in nature extremely necessitates knowledge, experience and persistence in execution to succeed.
Official: Google Panda 2.3 Update Is Live. Google has confirmed to Search Engine Land that late last week it pushed out a small update to the Panda filter.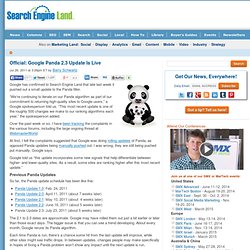 "We're continuing to iterate on our Panda algorithm as part of our commitment to returning high-quality sites to Google users," a Google spokesperson told us. "This most recent update is one of the roughly 500 changes we make to our ranking algorithms each year," the spokesperson added. Over the past week or so, I have been tracking the complaints in the various forums, including the large ongoing thread at WebmasterWorld.
The 20-Point SEO Account Takeover Checklist. What should you do if you are stepping into a role as the new "SEO Manager" of a website?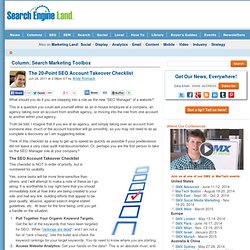 This is a question you could ask yourself either as an in-house employee at a company, an agency taking over an account from another agency, or moving into the role from one account to another within your agency. Truth be told, I imagine that if you are at an agency, and simply taking over an account from someone else, much of the account transition will go smoothly, so you may not need to do as complete a discovery as I am suggesting below. Search Marketing Salon Group News.
Inside Search · Features. How to Use the Hootsuite Bulk Scheduling Tool. The following is part of a series on using the Hootsuite social media tool. In this post we are going to be looking at using the bulk scheduling feature. First, we are going to take a step back and look at the two basics ways to schedule tweets so you get an idea of how things work before we get into bulk scheduling.
Using the Hootsuite dashboard, you can enter a tweet the way you normally would but, instead of hitting "tweet," you click the schedule button. When a calendar pops up, you click on the date, set the time, click schedule, select the accounts, and you are good to go (see screen shot below). The 5 Top Google Chrome SEO Extensions. SEO tools are everywhere. You can add plugins to your blog, download apps for your smartphone, download programs to your computer desktop and even use extensions in your browser. When you're competing against thousands of other websites for rankings its important to keep tabs on the SEO elements of your site and make sure you follow the rules. Checking out your competition and other related websites is the best way to see what you may be doing wrong.
So here are the top 5 extensions for Google Chrome that will help you keep up with and improve your SEO while browsing the Web 1. SEO Ranking Factors – 2009 and 2011 Compared. Download The Periodic Table Of SEO Ranking Factors. Introducing: The Periodic Table Of SEO Ranking Factors. SEO — search engine optimization — is one of the most important marketing activities available to companies and publishers, but it's too often considered some murky "dark art" or a sinful practice that should be avoided. It's not. To help clear away some of the mystery and fear for those new to SEO, and provide a "reset" for those who are experienced, we've created "The Periodic Table Of SEO Ranking Factors."
Clicking on the image above will take you to where we've permanently housed the table, along with information on how to download it for yourself. Linked Affiliate - A Place for Affiliate Marketers to Meet! Group News. SEO Kickoff Workshop. More guidance on building high-quality sites. Webmaster level: All In recent months we've been especiallyfocused on helping people find high-quality sites in Google's search results.
The "Panda" algorithm change has improved rankings for a large number of high-quality websites, so most of you reading have nothing to be concerned about. However, for the sites that may have been affected by Panda we wanted to provide additional guidance on how Google searches for high-quality sites. Our advice for publishers continues to be to focus on delivering the best possible user experience on your websites and not to focus too much on what they think are Google's current ranking algorithms or signals.
Some publishers have fixated on our prior Panda algorithm change, but Panda was just one of roughly 500 search improvements we expect to roll out to search this year.
Internal
How To Build Business By Focusing On Click-Throughs & Conversions, Not Just Rankings. Many website owners obsess over organic keyword rankings. Our clients often tell us, "We have to improve our rankings for "keyword X!". However, focusing on rankings as the primarily goal of SEO will not likely deliver the results most site owners want which is to increase business from their websites. In this example, we will use a client's Google Webmaster Tools and Google Analytics to choose the best keywords to focus on first, those bringing searchers to the website who are converting into leads.
Image Optimization - How to Optimize Your Images For Search Engine Traffic. Find your website's target markets. Content. Site Migration Safe SEO | Emboodo. Technical SEO: Tools and Approach - Search Engine Watch (SEW) Post Panda Social Engagement Measurements. 8 Reasons SEO Audits are Needed Before Sites are Built.
Usability & Internet Search Marketing: A More Unified Approach. Multiple Domains vs Subdomains vs Folders in SEO. Free Keyword Density Analyzer Tool. Discussion: Is DIY Link Building a Good Idea? SEO Checklist: 60 essential checks before launching a website. Product Page SEO tips. Picture-15.png (PNG Image, 1056×784 pixels) Please sign in / Web CEO Online. Website Credibility. How To Do An SEO Audit. The 5 Pillars Of International SEO Forensics. How Econsultancy measures Twitter via Google Analytics. Are you practising advanced SEO in 2011? Why Is Project Management Undervalued In SEO? Number Crunchers: Who Lost In Google's "Farmer" Algorithm Change? 8 Necessary SEO Steps During A Website Redesign.
51 essential link building tips. Countries and Their Domain Extensions. How Link Building Resembles Real Life. Reputation Crisis: Where To Turn? Keyword Tool | Keyword Suggestion and Tracking. How to Build an Effective Footer. Essential SEO & SEM Tips for 2011 – A Comprehensive Collection. Secrets of Link Building. The Beginner's Checklist for Small Business SEO. The Beginner's Checklist for Learning SEO. 10 Tips for Optimizing Your Website's Speed. My presentation at A4U Expo London 2010: Social Marketing - by @basvandenbeld.
---