SEO Analysis
The Hidden Cost Of Cheap SEO & Social Media Labor. Fact: All businesses, large or small, want to save money wherever they can.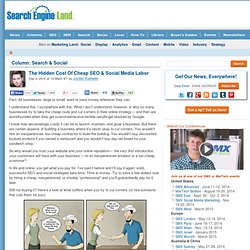 I understand this. I sympathize with this. What I don't understand, however, is why so many businesses try to take the cheap route and cut corners in their online strategy— and then are dumbfounded when they get scammed/receive terrible results/get blocked by Google. I know how devastatingly costly it can be to launch, maintain, and grow a business.
But there are certain aspects of building a business where it's never okay to cut corners. 5 Advanced (But Simple) SEO Analyses You Should Perform With Visitor Intelligence. Search & Responsive Design. As a Websitemaker the only thing you need to know about search engines (Google) is that they rank quality and relevance.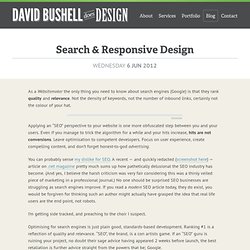 Not the density of keywords, not the number of inbound links, certainly not the colour of your hat. Applying an "SEO" perspective to your website is one more obfuscated step between you and your users. Even if you manage to trick the algorithm for a while and your hits increase, hits are not conversions. Leave optimisation to competent developers. Focus on user experience, create compelling content, and don't forget honest-to-god advertising. Find, Rank, Assess, Track, and Beat the Competition.
This is a guest post from Jeff Herbst, the founder of jobZook.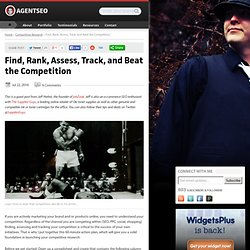 Jeff is also an e-commerce SEO enthusiast with The Supplies Guys, a leading online retailer of Oki toner supplies as well as other genuine and compatible ink or toner cartridges for the office. You can also follow their tips and deals on Twitter: @SuppliesGuys. How Affiliate Sites Can Best Exploit SEO. With the affiliate marketing industry now worth billions, the marketplace has undoubtedly become hugely congested.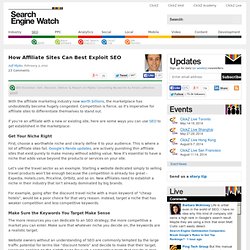 Competition is fierce, so it's imperative for affiliate sites to differentiate themselves to stand out. If you're an affiliate with a new or existing site, here are some ways you can use SEO to get established in the marketplace: Better page titles in search results. How To Prioritize Keywords For Optimization Based On Organic Competition.
Previously in Organic Keywords: The First Step In Search Engine Optimization, I covered how to use Google Analytics to choose the organic keyword phrases to focus on first in your optimization efforts: those keywords already contributing to the business goals.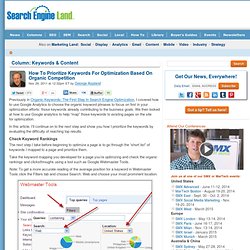 We then looked at how to use Google analytics to help "map" those keywords to existing pages on the site for optimization. In this article, I'll continue on to the next step and show you how I prioritize the keywords by evaluating the difficulty of reaching top results. Check Keyword Rankings. SEO Doctor – Free SEO Audit Tool. If you like SEO Doctor you will like the web-app I built.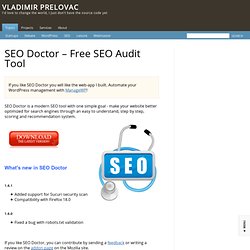 Automate your WordPress management with ManageWP! SEO Doctor is a modern SEO tool with one simple goal - make your website better optimized for search engines through an easy to understand, step by step, scoring and recommendation system. Analyzing Organic Competitors: How to Dissect Your Marketplace. Businesses love to know what their competition is doing.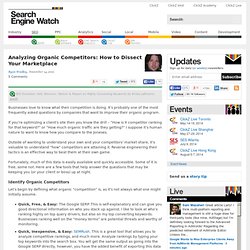 It's probably one of the most frequently asked questions by companies that want to improve their organic program. If you're optimizing a client's site then you know the drill – "How is X competitor ranking for that keyword?" Or "How much organic traffic are they getting?" I suppose it's human nature to want to know how you compare to the Joneses. Data Scraping guide for SEO » SEO himanshu. 10 Steps to a Successful SEO Migration Strategy. One of the most critical aspects of a search optimization campaign is to have a comprehensive and effective strategy to handle content migrations and URL changes.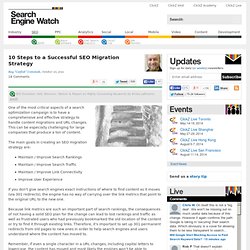 This can be especially challenging for large companies that produce a ton of content. The main goals in creating an SEO migration strategy are: Maintain / Improve Search RankingsMaintain / Improve Search TrafficMaintain / Improve Link ConnectivityImprove User Experience If you don't give search engines exact instructions of where to find content as it moves (via 301 redirects), the engine has no way of carrying over the link metrics that point to the original URL to the new one.
The Clickthrough Rate Equation In Organic Search. When I was in middle school, my favorite book and my favorite TV show were both Cosmos by Carl Sagan.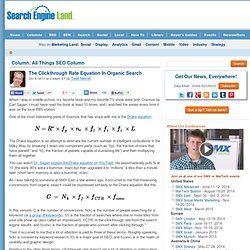 I must have read the book at least 10 times, and I watched the series every time it was on the local PBS station. One of the most interesting parts of Cosmos that has stuck with me is the Drake equation: The Drake equation is an attempt to estimate the current number of intelligent civilizations in the Milky Way by breaking it down into component parts (such as "f(p), the fraction of stars that have planets" and "f(l), the fraction of planets capable of sustaining life") and then multiplying them all together.
You can watch Dr. Sagan explain the Drake equation on YouTube. My Favorite SEO Research Tool: PPC Data. Understanding Your Backlink Profile. As SEO's and internet marketers, understanding and knowing the value of backlinks is one of the key aspects of our job.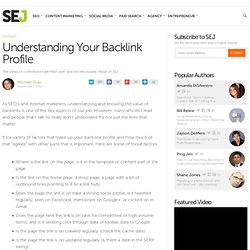 However, many articles I read and people that I talk to, really don't understand it's not just the links that matter. It's a variety of factors that make up your back link profile and how much of that "agrees" with other parts that is important. Here are some of those factors: Canadian SEO | Local Canadian SEO | Hamilton SEO|CanuckSEO.com. Every SEO worth her salt will tell you that any successful SEO campaign is based on the cornerstone of onpage optimization. However, when it comes to what onpage SEO techniques really work, there are 8 opinions for every 5 experts.
When your business is at stake, you can't just do something to optimize your site and hope that it works. The top 10 SEO myths. Net magazine is the number one choice for the professional web designer and developer. It's here that you find out about the latest new web trends, technologies and techniques – all in one handy package. Each issue boasts a wealth of expert tips and advice, including in-depth features and over 30 pages of advanced front- and backend tutorials on subjects as diverse as CSS, HTML, JavaScript, WordPress, PHP, and plenty more.
Insights for Search - Web Search Interest: snowboarding in whistler, snowboarding at whistler - Worldwide, 2004 - present. AdWords: Keyword Tool. Search for new keyword or ad group ideas Keyword Planner is like a workshop for building new Search Network campaigns or expanding existing ones. You can search for keyword and ad group ideas, get historical statistics, see how a list of keywords might perform, and even create a new keyword list by multiplying several lists of keywords together. A free AdWords tool, Keyword Planner can also help you choose competitive bids and budgets to use with your campaigns.
Whether you're new to online advertising or an experienced pro, you can use Keyword Planner to lay the groundwork for a successful campaign. Learn more. Free Keyword Density Analyzer Tool. On-page Classifiers When Google rolled out the first Penguin update in April of 2012, they also rolled out some on-page classifiers which penalized some pages that had excessive word repetition. In this day and age the primary use of these types of analysis tools is not to keep dialing up the keyword density, but rather to lower the focus on the core terms while including alternate word forms, accronyms, synonyms & other supporting vocabulary. High Density: The upside of aggressive repetition (in terms of helping boost rank for the core term) is fairly minimal & high keyword density increases the likelihood that the page may get filtered.
SEO Workers Search Engine Optimization Analysis Tool Results. SEO (Search Engine Optimization) Analysis Tool This SEO Analysis Tool is to help you analyze and measure the ranking potential of your web pages. It doesn't only analyze the Meta Tags of your pages, rather it tries to use the same spider technology as the search engine spiders themselves.
We also made available a Firefox SEO extension which you can use to test your pages with just a single click. Visit our seo analysis tool extension page for more information. Did you already use our SEO tool and you have questions or you need some extra help to improve your site's performance and achieve higher rankings?
---