PPC
Does investment in paid search brand campaigns deliver incremental revenue? For this month's post I thought I'd share a practical example of how you can use testing to validate the impact of your paid search campaigns.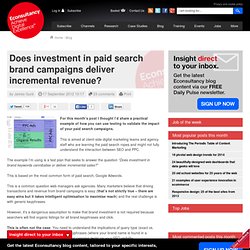 This is aimed at client-side digital marketing teams and agency staff who are learning the paid search ropes and might not fully understand the interaction between SEO and PPC. The example I'm using is a test plan that seeks to answer the question "Does investment in brand keywords cannibalise or deliver incremental sales?" This is based on the most common form of paid search, Google Adwords.
Creative Testing For the Advanced Search Marketer, Part 1. In a search landscape where millions of keywords define intent, generating the most compelling creative can prove to be a daunting task.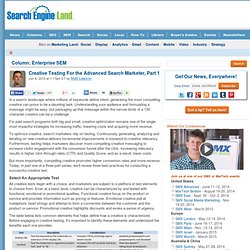 Understanding your audience and formulating a message might be easy, but packaging up that message within the narrow limits of a 130 character creative can be a challenge. For paid search programs both big and small, creative optimization remains one of the single most impactful strategies for increasing traffic, lowering costs and acquiring more revenue. To optimize creative, search marketers rely on testing. Continuously generating, analyzing and iterating on new creative delivers incremental improvements in keyword-to-creative relevancy. 10 Great Adwords Options For Boosting Conversions. We all know that Adwords is the most used system in the world to drive paid traffic to websites.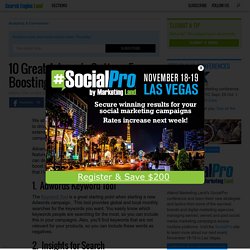 The Adwords system is an extensive system with a lot of complex options to optimize campaigns and increase conversions. Advanced PPC managers should already know all of these features, but beginners and intermediate level Adwords users can definitely get some new inspiration and ideas from this list to boost up performance. In this article, I will highlight 10 features that I love and frequently use. 1.
Adwords Keyword Tool. PPC Optimization Process. Brand Ad Cannibalism: A Tale Of Two Tests. Should companies pay for ads on their brand name?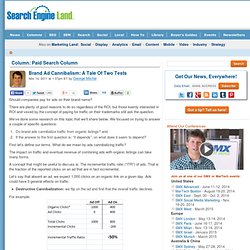 There are plenty of good reasons to do so regardless of the ROI, but those keenly interested in ROI and vexed by the concept of paying for traffic on their trademarks still ask the question. We've done some research on this topic that we'll share below. We focused on trying to answer a couple of specific questions: Guide: Google AdWords 'See All Keywords' Feature.
I'd like to discuss one of Pay Per Click's most underused tools, the "See All Keywords" feature from Google AdWords.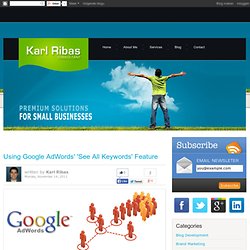 This feature was previously known as the "Search Query Report" in older versions of the Google AdWords interface, and does exactly as its name suggests... shows advertisers all queries that have triggered their ads. Relevancy is, without a doubt, the most important element of all online marketing. I can't stress this enough. Untitled. Google's display network can bring you tremendous amounts of clicks and conversions if used correctly.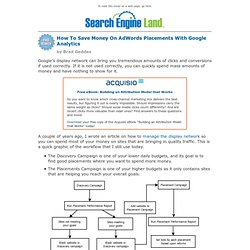 If it is not used correctly, you can quickly spend mass amounts of money and have nothing to show for it. A couple of years ago, I wrote an article on how to manage the display network so you can spend most of your money on sites that are bringing in quality traffic. This is a quick graphic of the workflow that I still use today. 6 Actionable Ways to Use PPC and SEO Data to Improve Overall Results and Focus. SEO is better!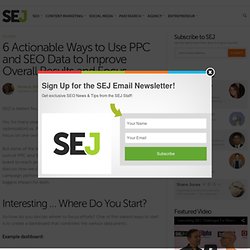 No, PPC is better! Yes, for many years there has been the debate around SEO (search engine optimization) vs. Time Management Tips For In-House Search Engine Marketing. If there's one complaint that is universal for in-house search marketing managers, it's that there just isn't enough time or resources to get everything done.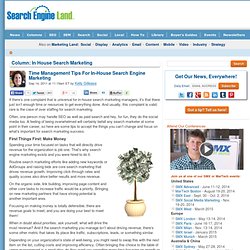 And usually, this complaint is valid; rare is the case of over staffing for search marketing. Often, one person may handle SEO as well as paid search and hey, for fun, they do the social media too. A feeling of being overwhelmed will certainly befall any search marketer at some point in their career, so here are some tips to accept the things you can't change and focus on what's important for search marketing success. First Things First: Make Money. 5 Filters Everybody Should Use In Their AdWords Account. It's the dream.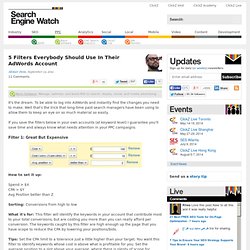 To be able to log into AdWords and instantly find the changes you need to make. Well that's the trick that long-time paid search managers have been using to allow them to keep an eye on so much material so easily. If you save the filters below in your own accounts (at keyword level) I guarantee you'll save time and always know what needs attention in your PPC campaigns. Use Symbols in PPC Ads for an 89% Boost in Conversions. This is a guest post by Chad Summerhill, author of the blog PPC Prospector, provider of free PPC tools and PPC tutorials, and in-house AdWords Specialist at Moving Solutions, Inc.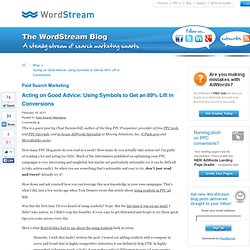 (UPack.com and MoveBuilder.com). How many PPC blog posts do you read in a week? How many do you actually take action on? MicroData & Retail Products: Not Ready For Primetime? If you are in the search engine business, the functionality in the Microdata specification sponsored by Google, Yahoo and Bing is a very attractive way to theoretically improve search results. Enterprise search engines are well-versed with named entity extraction tools and techniques, which is how this information has been generated in the past decade.
The major search engines are essentially telling content providers that if they name all their entities in their content, they can do a better job of extracting meaning from them to help improve search results. This is a win-win proposition, right? Maybe! Other similar initiatives known as the Semantic Web and RDFa have not made much inroads in the mindshare of business owners yet. Adwords Conversion Funnels & Attribution Models: Can They Work Together? First click. Last click. Linear. 3 Simple Alternatives To Attribution Modeling For Search Marketers. In the recent articles Why Search Marketers Are The Future Media Planners and How to Maximize SEM Efforts with Search Retargeting, we discussed how search marketers are ideally positioned to own a larger portion of the total media budget because the skills needed to buy display media are becoming more and more quantitative, just like SEM.
Techniques like site retargeting and search retargeting are often the starting point for a search marketer to break into this space as they are the most familiar, and the common metrics used in search (CTR, CPA, CPC) are valid for this type of display too. However, the smart search marketer will soon start to ask questions about the interplay between search and display and see that a more holistic approach offers greater insight. 5 Steps to Improve your AdWords Account in 5 Minutes. Your AdWords account isn't delivering, but you don't have time to sit down and tackle the problem. Sound familiar? Follow this 5 step guide to optimize your AdWords account and improve PPC performance in just 5 minutes. Step 1: Define Your PPC Objectives. How to Get Search Volume Data Straight into Excel [Mozcon Debrief] The author's posts are entirely his or her own (excluding the unlikely event of hypnosis) and may not always reflect the views of Moz.
A few weeks ago I attended (and had the honour of speaking at) Mozcon. Mozcon is without a doubt the best SEO conference I've ever been to, and I've been to a lot. It rocks to be amongst so many stars! Anyhoo, just to say thanks to the Mozteam for flying me over to sunny Seattle, I brought them a new toy to play with. PPC and SEO Work Better Together | Razorfish Search | Razorfish Search. What's In a Good PPC Report? What PPC Practitioners Should Know About Robots.txt Files. Advanced Negative Strategies For Improved Paid Search Performance: Part II.
Announcing the AdWords Performance Grader: A Fast & Free PPC Audit. 3 Google Tools That Can Help Boost AdWords Campaign Performance. My Top 10 Insights From 10 Years In Search. Mobile Analytics: Tracking Click-to-Call Mobile Ad Campaigns | Occam's Razor by Avinash Kaushik. SNM-Acquisio-Advanced-PPC-Bidding-Strategies.pdf (application/pdf Object) The One Metric You Need To Optimize Across Paid & Organic Search. 7 Reasons Why Nixing Branded Keywords Is Not The Fix For CPC Inflation. Google Instant Preview: A Game-Changer For Landing Pages. Why Google AdWords Quality Score Is Your Friend. How To Stay A Step Ahead Of Your Hungriest PPC Competitors. Put optimization ideas to the test—run AdWords Campaign Experiments in your Opportunities tab. How To & When To Use Google Ad Extensions: Phone & Local Extensions. 5 Easy Landing Page Tests. Quality Score Tracking Tool: An Interview With TenScores Founder Chris Thunder. DuckDuckGo.
Search Marketing Tips For Yandex, Russia's Top Search Engine. Does Your Local Mobile Search Strategy Suck?
---