Digital Marketing
We all use tools and access resources to keep us reacting quickly and professionally in this ever changing industry. On top of that, every day I get requests from people to test or review new resources, think up ideas to build internal tools and many more get developed that I may or may not even be aware of. So how is one to sort through everything out there, separate the good from the bad, the expensive from the inexpensive and figure out how to tell when the price difference is worth it? As one who both loves testing new ways of looking at data and also being a business owner who enjoys finding the best possible ROI on hardware and software alike I thought I'd put together my 78 favorite resources based on what they yield and what they procude from a dollar-in-dollar-out perspective. I've divided these resources into nine sections.
78 Resources For Every Internet Marketer's Toolkit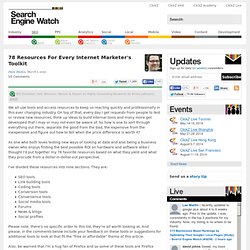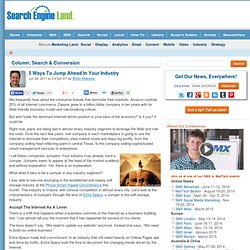 We frequently hear about the consumer brands that dominate their markets. Amazon controls 25% of all Internet commerce. Zappos grew to a billion dollar company in ten years with its Web-friendly business model and rule-breaking culture. But who holds the dominant Internet-driven position in your slice of the economy? Is it you? It could be.
5 Ways To Jump Ahead In Your Industry
Addressing Software Developed by Allies Computing Ltd
" It's a way our clients can get to know us and see our culture without physically visiting the store. I couldn't believe I got the site up and running over one weekend." " I have been an entrepreneur for many, years, but suddenly my art licensing is really coming together and I need to have a simple, bold statement about my art.
Conversion Rate Optimisation