Cool Stuff
Should You Let Your Employees Work From Home? Today, many companies offer their employees the option to work from home, even if they live relatively close to the office.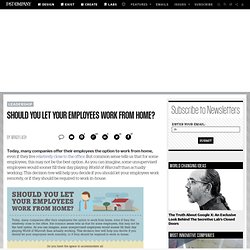 But common sense tells us that for some employees, this may not be the best option. As you can imagine, some unsupervised employees would sooner fill their day playing World of Warcraft than actually working. Best & Worst Lists - The 50 Best Websites of 2011. 15 Books All Internet Marketing Should Read | Single Grain Blog. Researching what you need on the web is great – but sometimes, it would be nice to have something that's just a little more cohesive.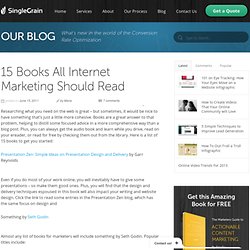 Books are a great answer to that problem, helping to distill some focused advice in a more comprehensive way than a blog post. Plus, you can always get the audio book and learn while you drive, read on your ereader, or read for free by checking them out from the library. Nine Things Successful People Do Differently. Learn more about the science of success with Heidi Grant Halvorson's HBR Single, based on this blog post.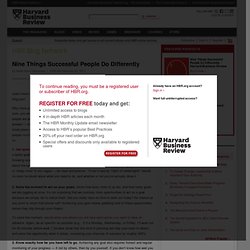 Why have you been so successful in reaching some of your goals, but not others? If you aren't sure, you are far from alone in your confusion. It turns out that even brilliant, highly accomplished people are pretty lousy when it comes to understanding why they succeed or fail. The intuitive answer — that you are born predisposed to certain talents and lacking in others — is really just one small piece of the puzzle. 10 YouTube Videos Every Entrepreneur Should Watch. This YouTube video seeks to help aspiring executives prepare themselves to be strong CEO candidates in the future.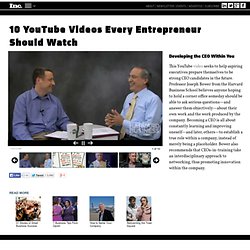 Professor Joseph Bower from the Harvard Business School believes anyone hoping to hold a corner office someday should be able to ask serious questions—and answer them objectively—about their own work and the work produced by the company. Becoming a CEO is all about constantly learning and improving oneself—and later, others—to establish a true role within a company, instead of merely being a placeholder. Bower also recommends that CEOs-in-training take an interdisciplinary approach to networking, thus promoting innovation within the company. 10 YouTube Videos Every Entrepreneur Should Watch. Global cities of the future: An interactive map - McKinsey Quarterly - Economic Studies - Productivity & Performance.
Over the next 13 years, 600 cities will account for nearly 65 percent of global GDP growth.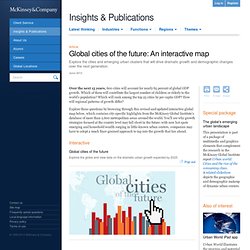 Which of them will contribute the largest number of children or elderly to the world's population? Which will rank among the top 25 cities by per capita GDP? How will regional patterns of growth differ? Explore these questions by browsing through this revised and updated interactive global map below, which contains city-specific highlights from the McKinsey Global Institute's database of more than 2,600 metropolitan areas around the world.
GroupMe. Just How Dangerous Is Sitting All Day? [INFOGRAPHIC] Sitting down, which most of us do for at least eight hours each day, might be the worst thing we do for our health all day.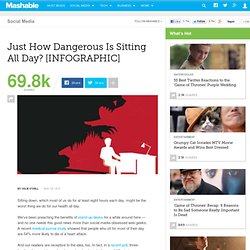 We've been preaching the benefits of stand-up desks for a while around here — and no one needs this good news more than social media-obsessed web geeks. A recent medical journal study showed that people who sit for most of their day are 54% more likely to die of a heart attack. And our readers are receptive to the idea, too. In fact, in a recent poll, three-fourths of you said you already used a stand-up desk or you'd like to try one. So if you need more convincing, check out these graphically organized stats from Medical Billing and Coding.
2011 TechStars NYC Startups. Ten Life Lessons From Richard Branson. Richard Branson clearly knows a thing or two about success.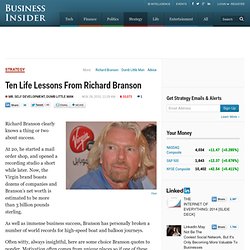 At 20, he started a mail order shop, and opened a recording studio a short while later. Now, the Virgin brand boasts dozens of companies and Branson's net worth is estimated to be more than 3 billion pounds sterling. As well as immense business success, Branson has personally broken a number of world records for high-speed boat and balloon journeys. Manage Like You're Dying: A Humbled Entrepreneur's Reflections. We've all heard the expression "live like you're dying."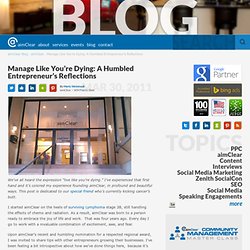 I've experienced that first hand and it's colored my experience founding aimClear, in profound and beautiful ways. This post is dedicated to our special friend who's currently kicking cancer's butt. I started aimClear on the heels of surviving Lymphoma stage 3B, still handling the effects of chemo and radiation. As a result, aimClear was born to a person ready to embrace the joy of life and work. Greatest roads in the world - Bing Maps.
---