Conversion Rate Optimisation
Nine valuable techniques to persuade visitors to buy in 2012. More and more of our time is spent helping our clients not only make their online experiences more usable but developing a persuasion strategy that will run through their online customer journey.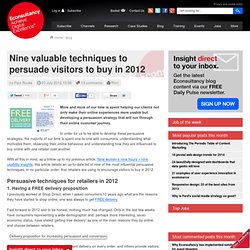 In order for us to be able to develop these persuasive strategies, the majority of our time is spent one-to-one with consumers, understanding what motivates them, observing their online behaviour and understanding how they are influenced to buy online with one retailer over another. With all this in mind, as a follow up to my previous article, Nine women x nine hours = nine usability insights, this article details an up-to-date list of nine of the most influential persuasive techniques, in no particular order, that retailers are using to encourage visitors to buy in 2012. 1. Having a FREE delivery proposition I previously worked at Shop Direct, when I asked consumers 10 years ago what are the reasons they have started to shop online, one was always to get FREE delivery.
Multivariate testing, A/B split testing and landing page optimization software reviews | Which Multivariate? 5 Easy Landing Page Tests. It's landing page testing time!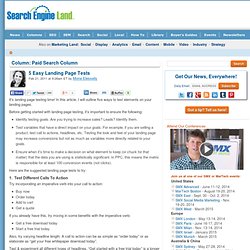 In this article, I will outline five ways to test elements on your landing pages. Before getting started with landing page testing, it's important to ensure the following: 50+ Awesome Posts on Conversions. Are you ready to learn more about conversions, but not sure where to begin?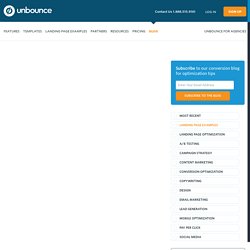 We have you covered in this post – catch up on the latest and greatest information in this list of over 50 awesome posts on conversions from 2011. There's something for everyone, from blogging to social media, landing pages to squeeze pages, increasing conversions vs. conversion killers, design, and more! Read these blog posts and start converting more visitors into paying customers.
6 Essential PPC Landing Page Optimizations. Your landing pages aren't converting.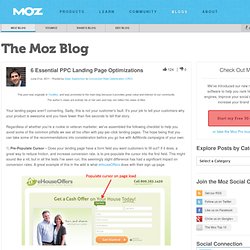 Sadly, this is not your customer's fault. It's your job to tell your customers why your product is awesome and you have fewer than five seconds to tell that story. Size Does Matter: How, Where & Why People Buy. In my last post, I had discussed how big retailers with thousands of SKUs are faced with difficult performance management questions relating to their SEM campaigns.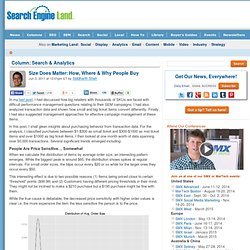 I had also analyzed transaction data and shown how small and big ticket items convert differently. Finally, I had also suggested management approaches for effective campaign management of these items. In this post, I shall glean insights about purchasing behavior from transaction data. For the analysis, I classified purchases between $1-$300 as small ticket and $300-$1000 as mid ticket items and over $1000 as big ticket items. Google Analytics Adds Multi-Channel Funnels. A promising new feature in Google Analytics will show which combination of websites influenced consumer behavior prior to a conversion action on your website.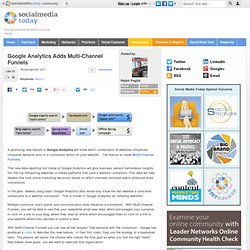 The feature is called Multi-Channel Funnels. This new data-reporting tool inside of Google Analytics will give business owners tremendous insights into the top influencing websites or media platforms that yield a website conversion. This data will help dealers fine tune online marketing decisions based on which channels assisted and/or produced more conversions. Steal These 5 High-Converting Website Tricks. Have you ever wondered which websites convert best, and what they're doing right?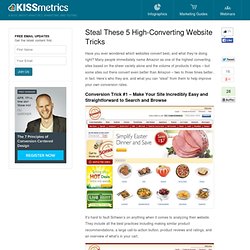 Many people immediately name Amazon as one of the highest converting sites based on the sheer variety alone and the volume of products it ships – but some sites out there convert even better than Amazon – two to three times better, in fact. Here's who they are, and what you can "steal" from them to help improve your own conversion rates. Conversion Trick #1 – Make Your Site Incredibly Easy and Straightforward to Search and Browse It's hard to fault Schwan's on anything when it comes to analyzing their website. Ecommerce guide for entrepreneurs. Benjamin Dyer gives his eight and a half tips on how to build an ecommerce site to minimise maintenance and maximise sales.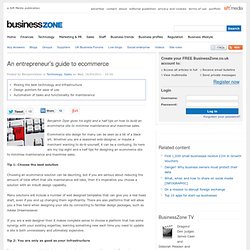 Ecommerce site design for many can be seen as a bit of a black art. Whether you are a seasoned web designer, or maybe a merchant wanting to do-it-yourself, it can be a confusing. So here are my top eight and a half tips for designing an ecommerce site to minimise maintenance and maximise sales. Tip 1: Choose the best solution. [HOW TO] Implement a Conversion Rate Optimization (CRO) Process. This is a guest post.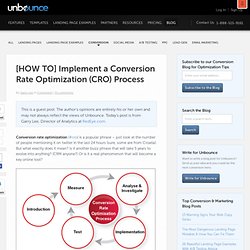 The author's opinions are entirely his or her own and may not always reflect the views of Unbounce. Today's post is from Garry Lee, Director of Analytics at RedEye.com.
---