Business Management tools/services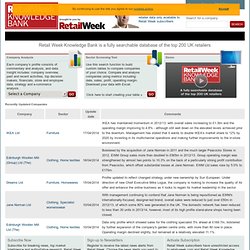 :: Retail Week Knowledge Bank :: HOME
Company Analysis Each company's profile consists of commentary and analysis, and data. Insight includes: company overview, past and recent activities, top decision makers, financials, store and employee data, strategy and e-commerce analysis. Sector Screening Tool
Why you'll love dlvr.it
Tweet Automatically Stay connected to your followers by automatically (or selectively) updating your Twitter accounts when you publish new items. Real-Time Engagement Stats Know where your content gets the most attention. How does your content resonate with your Twitter audience vs. your Facebook friends? Learn more »
The author's posts are entirely his or her own (excluding the unlikely event of hypnosis) and may not always reflect the views of Moz. Music to enjoy while reading this post: We Know Something You Don't Know by DJ Format & Jurassic 5 You provide something specific: That might be a product, a service, a trustworthy source of information, a community space… And you know exactly what your audiences may be searching for to find your wares. But do you know what they really want out of you? Do you know how they really feel? Do you know what they want more of or less of in your industry?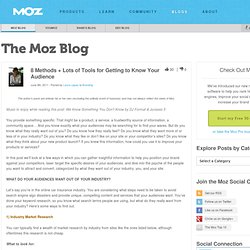 8 Methods + Lots of Tools for Getting to Know Your Audience
PPC Marketing Group News
Luke Judge - Snowboarding Definitive - Everything to get you Snowboarding
The Snow boarding Definitive Sign up Essentials Everything from Boards to Bindings & more Clothing All the little extras to keep you warm on the slopes Accessories Everything from headphones to base layers Brands Search for gear designed and made by your favourite brand All Bindings Burton (43) Flow (30) K2 (27) Ride (25) Technine (24)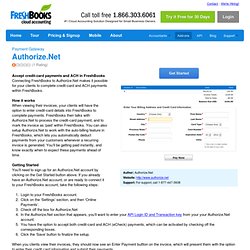 Accept credit-card payments and ACH in FreshBooks Connecting FreshBooks to Authorize.Net makes it possible for your clients to complete credit-card and ACH payments within FreshBooks. How it works When viewing their invoices, your clients will have the option to enter credit-card details into FreshBooks to complete payments. FreshBooks then talks with Authorize.Net to process the credit-card payment, and to mark the invoice as 'paid' within FreshBooks. You can also setup Authorize.Net to work with the auto-billing feature in FreshBooks, which lets you automatically deduct payments from your customers whenever a recurring invoice is generated. You'll be getting paid instantly, and know exactly when to expect these payments ahead of time. Getting Started You'll need to sign up for an Authorize.Net account by clicking on the Get Started button above.
Authorize.Net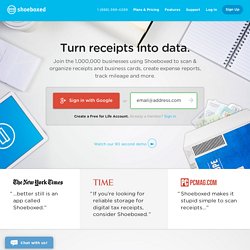 Since 2007 the Shoeboxed team has been working tirelessly to keep our users organized and give them more time to focus on their business, their family or whatever it is in life they love to do. And with over 500,000 users in 100 countries worldwide, we think we've gotten pretty good at it! Driving this organizational revolution is a group of over 50 ambitious, talented and passionate entrepreneurs and young professionals from around the world. From our headquarters in Durham, North Carolina, to our offices in San Francisco, California, and Sydney, Australia, the Shoeboxed team is 100% committed to helping you save time, money and headache. We love meeting our customers (and potential customers!)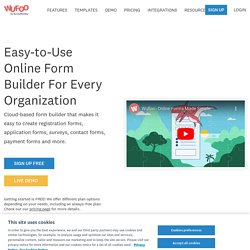 The Introduction Wufoo is a web application that helps anybody build amazing online forms. When you design a form with Wufoo, it automatically builds the database, backend and scripts needed to make collecting and understanding your data easy, fast and fun. Because we host everything, all you need is your web browser and a few short minutes to build a form and start using it right away. While we've collected a few of our favorite features here, the best way to experience Wufoo is first hand. So be sure to sign up today for free or try out the demo to see how form building was meant to be done.
FreshBooks - Online Invoicing, Time Tracking & Billing Software
Overview - Features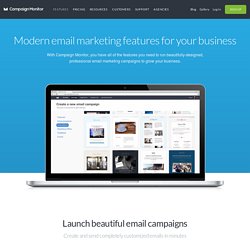 Play Updated Add your content
What is Panopto Focus?