Tips
How to Make Separate RSS Feed for Each Category in WordPress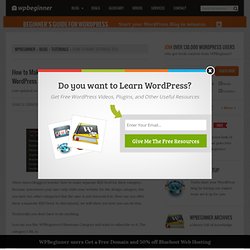 Often times bloggers wonder how to make separate RSS feed for their category. Because sometimes your user only visits your website for the design category, but you have ten other categories that the user is not interested in. How can you offer them a separate RSS Feed.
Quick Tip: Writing Simple Modular Code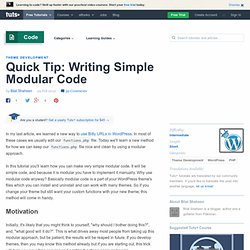 In my last article, we learned a new way to use Bitly URLs in WordPress . In most of these cases we usually edit our functions.php file. Today we'll learn a new method for how we can keep our functions.php file nice and clean by using a modular approach. In this tutorial you'll learn how you can make very simple modular code. It will be simple code, and because it is modular you have to implement it manually. Why use modular code anyway?
Last week, we wrote an article announcing that we have switched our site from WP Super Cache to W3 Total Cache. That article also announced our partnership with MaxCDN . Due to a very high volume of request, we have decided to create a step by step user's guide to installing and setting up W3 Total Cache for beginners. In this article, we will show you how to install W3 Total Cache Plugin , set it up properly so you can maximize the benefits. We will also show you how to combine W3 Total Cache with CDN services to make your site load even faster. Before you begin, we want you to download the YSlow Addon for Firefox and run it for your site.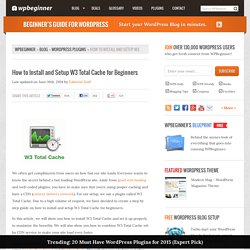 How to Install and Setup W3 Total Cache and MaxCDN for Beginners
How to Create Simpler Login URL in WordPress for Your Clients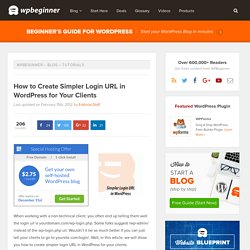 When working with a non-technical client, you often end up telling them well the login url is yourdomain.com/wp-login.php. Some folks suggest /wp-admin/ instead of the wp-login.php url. Wouldn't it be so much better if you can just tell your clients to go to yoursite.com/login/. Well, in this article, we will show you how to create simpler login URL in WordPress for your clients. Open the .htaccess file and paste the following code above the WordPress rewrite rule Don't forget to replace the domain name to your site's domain.
The PHP language is widely adopted for many web applications like WordPress. As powerful as PHP is it does have some drawbacks, but one of the my favorite features of PHP is that it will display errors right on the web page. The new toolbar that was introduced in WordPress 3.3 interferes with this functionality. The toolbar has a fixed absolute position which covers the first few lines of PHP errors. Options for Displaying Errors
Display PHP Errors as Admin Alerts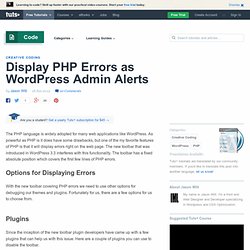 Give your site a boost! Implement crucial optimization techniques that will improve not only your ySlow score, but your Google rank too. In this tutorial we will cover all aspects of W3 caching, ySlow, Google page speed, CSS sprites & htaccess rules, to achieve a high ySlow score like i have done on my blog. Before We Begin A quick note before we start, although this tutorial will cover everything in as much detail as is required, there will (wherever possible) be shortcuts, to save you some time. Step 1: Install the Necessary Components
Speed up your WordPress site the right way with this ultimate guide