Portfolio
DB Works
Vogue Magazine The fashion icon goes digital ( and responsive ) — Hanzo Studio 2012 Greenhill Venture Partners Indentity and website redesign for this New York-based early stage venture fund — Area 17 NY 2010
40 ejemplos de portafolios de creativos altamente originales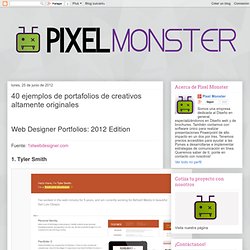 1. Tyler Smith Tyler Smith's website is awesome starting from the refreshable header. Minimal, well-aligned and responsive design. 2. Filip Slovacek
40 ejemplos de portafolios de creativos altamente originales
Beautiful Design Resumes & their Matching Portfolio Sites | Creative Opera Design Blog: Creative Advice and Inspiration for Graphic Designers and Web Designers
On 03.21.09, In Inspiration, Popular, by Manda It seems like most design resumes are too hot (so over-the-top creative that they are hard to read) or too cold (boring old Microsoft Word); this batch is just right. Bonus resume tips have been included at the end of the post! Being creative is second nature to most designers.
unouplus
London Web Designer / Web Developer - Peter Pearson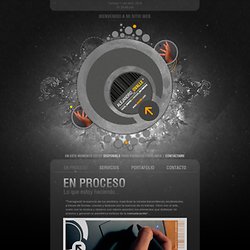 Cada una de las áreas en las cuales me desarrollo tienen una ciencia y un proceso distinto, pero con un factor común que es comunicar y conceptualizar ideas. A continuación, una pequeña descripción de los conocimientos con que puedo aportar a la concresión de tus proyectos y planes de marketing, "análogo" y digital. Diseño Gráfico:Diseño Gráfico en general, avisos publicitarios, afiches, volantes, dípticos, trípticos, gigantografías, pendones, lienzos, logotipos, isotipos, imagen corporativa, packaging, libros, catálogos, brochures, revistas, señalética, etiquetas, etc. Pop y Merchandising: Piezas gráficas y displays para promociones en punto de venta, stands, gráfica publicitaria, regalos corporativos, etc. Diseño y Desarrollo Web: Diseño y desarrollo de sitios web, mini sitios, sitios promocionales, mailings, catálogos, intranets, animaciones, banners, etc.
ALEJANDRO OVALLE | PORTAFOLIO DIGITAL | Diseño Gráfico & Creación Multimedios