Portfolio
BJÖRN MEIER | Product Design Studio Berlin. Docks is a modular furniture system, which can be combined in various ways to create different office islands.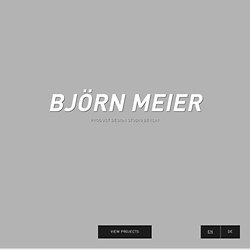 As communal furniture docks can be both a meeting place and interface, as well as a retreat for relaxation and concentration. The modules can be put together in such a way as to provide acoustic and visual privacy or open-plan meeting areas. Hello Monday. Portfolio | Odd Web Things. Home - Nine Lion Design - The Design Portfolio of Chikezie Ejiasi. The Beauty of a Hand Made Book (Chris Crisman's New Promo) It's easy nowadays to get your own book printed.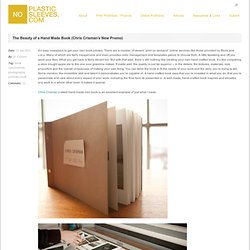 There are a number of decent "print on demand" online services like those provided by Blurb and LuLu. Many of which are fairly inexpensive and even provides color management and templates galore to choose from. A little tweaking and off you send your files. R J Scott on Behance. R J Scott is an up and coming artist producing fine, sculptural furniture.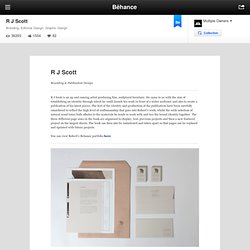 He came to us with the aim of establishing an identity through which he could launch his work in front of a wider audience and also to create a publication of his latest pieces. The feel of the identity and production of the publication have been carefully considered to reflect the high level of craftsmanship that goes into Robert's work, whilst the wide selection of natural wood tones both alludes to the materials he tends to work with and ties the brand identity together. The three different page sizes in the book are organised to display; text, previous projects and then a new featured project on the largest sheets. R J Scott on Behance. DB Works. 40 ejemplos de portafolios de creativos altamente originales. 1.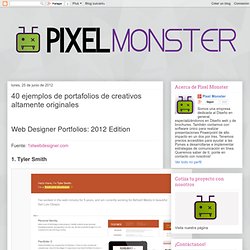 Tyler Smith Tyler Smith's website is awesome starting from the refreshable header. Minimal, well-aligned and responsive design. 2. Filip Slovacek. 40 ejemplos de portafolios de creativos altamente originales. Beautiful Design Resumes & their Matching Portfolio Sites | Creative Opera Design Blog: Creative Advice and Inspiration for Graphic Designers and Web Designers. On 03.21.09, In Inspiration, Popular, by Manda It seems like most design resumes are too hot (so over-the-top creative that they are hard to read) or too cold (boring old Microsoft Word); this batch is just right.
Bonus resume tips have been included at the end of the post! Being creative is second nature to most designers. Ftdesigner.net - personal portfolio of Alexey Chenishov. Unouplus. London Web Designer / Web Developer - Peter Pearson. ALEJANDRO OVALLE | PORTAFOLIO DIGITAL | Diseño Gráfico & Creación Multimedios.
---