Photovoltaic Panels - Research
Solar Energy News
Browse News Stories 1 to 10 of 1,443 stories POPUP: Novel Organic Solar CellsDecember 13, 2013 — Future solar cells will be light and mechanically flexible. They will be produced at low costs with the help of printing processes. Scientists aim at developing more efficient materials and new ... > full story Solar Cells Made Thin, Efficient and FlexibleDecember 9, 2013 — Scientists may be one step closer to tapping into the full potential of solar cells.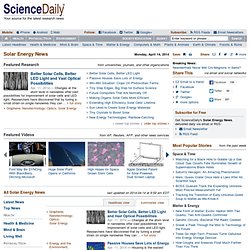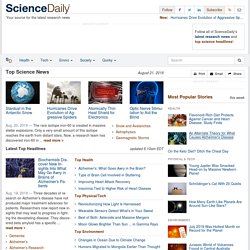 Megafloods: What They Leave Behind South-central Idaho and the surface of Mars have an interesting geological feature in common: amphitheater-headed canyons. Researchers offer a plausible account that all these canyons were created by enormous floods. ... > full story Image Perception in the Blink of an Eye Imagine seeing a dozen pictures flash by in a fraction of a second.
Photovoltaics
Photovoltaic SUDI shade is an autonomous and mobile station in France that provides energy for electric vehicles using solar energy. Photovoltaics (PV) is a method of generating electrical power by converting solar radiation into direct current electricity using semiconductors that exhibit the photovoltaic effect. Photovoltaic power generation employs solar panels composed of a number of solar cells containing a photovoltaic material. Materials presently used for photovoltaics include monocrystalline silicon, polycrystalline silicon, amorphous silicon, cadmium telluride, and copper indium gallium selenide/sulfide. Due to the increased demand for renewable energy sources, the manufacturing of solar cells and photovoltaic arrays has advanced considerably in recent years.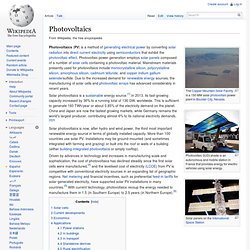 Energy Efficiency News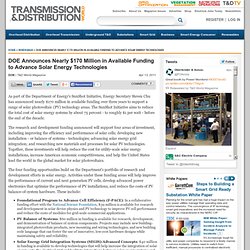 As part of the Department of Energy's SunShot Initiative, Energy Secretary Steven Chu has announced nearly $170 million in available funding over three years to support a range of solar photovoltaic (PV) technology areas. The SunShot Initiative aims to reduce the total cost of solar energy systems by about 75 percent - to roughly $1 per watt - before the end of the decade. The research and development funding announced will support four areas of investment, including improving the efficiency and performance of solar cells; developing new installation - or balance of systems - technologies; advancing solar energy grid integration; and researching new materials and processes for solar PV technologies.
DOE Announces Nearly $170 Million in Available Funding to Advance Solar Energy Technologies