Photovoltaic Panels - Research
Solar Energy News
Measuring Mars: The MAVEN Magnetometer When the Mars Atmosphere and Volatile Evolution (MAVEN) mission begins its journey to the Red Planet in 2013, it will carry a sensitive magnetic-field instrument built and tested by a team ... > full story Browse News Stories 1 to 10 of 1,315 stories Nanowire Solar Cells Raise Efficiency Limit March 24, 2013 — Scientists have shown that a single nanowire can concentrate the sunlight up to 15 times of the normal sun light intensity.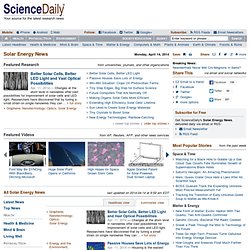 Photovoltaics
Photovoltaic SUDI shade is an autonomous and mobile station in France that replenishes energy for electric vehicles using solar energy. Photovoltaics ( PV ) is a method of generating electrical power by converting solar radiation into direct current electricity using semiconductors that exhibit the photovoltaic effect . Photovoltaic power generation employs solar panels composed of a number of solar cells containing a photovoltaic material. Materials presently used for photovoltaics include monocrystalline silicon , polycrystalline silicon , amorphous silicon , cadmium telluride , and copper indium gallium selenide /sulfide. Due to the increased demand for renewable energy sources, the manufacturing of solar cells and photovoltaic arrays has advanced considerably in recent years.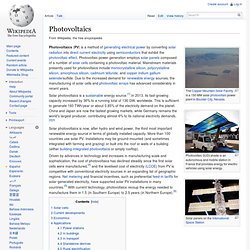 Energy Efficiency News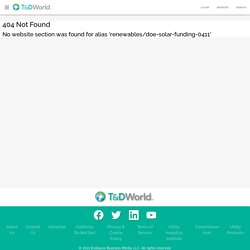 As part of the Department of Energy's SunShot Initiative, Energy Secretary Steven Chu has announced nearly $170 million in available funding over three years to support a range of solar photovoltaic (PV) technology areas. The SunShot Initiative aims to reduce the total cost of solar energy systems by about 75 percent - to roughly $1 per watt - before the end of the decade. The research and development funding announced will support four areas of investment, including improving the efficiency and performance of solar cells; developing new installation - or balance of systems - technologies; advancing solar energy grid integration; and researching new materials and processes for solar PV technologies. Together, these investments will help reduce the cost for utility-scale solar energy installations, increase American economic competitiveness, and help the United States lead the world in the global market for solar photovoltaics.
DOE Announces Nearly $170 Million in Available Funding to Advance Solar Energy Technologies
Kyocera | Solar Energy Products | Products | Tech Support | Kyocera Solar PV Calculator