Writing
Script Frenzy. The One-Minute Writer. Cuparius - Swearwords of Science Fiction and Fantasy AND Others. Flashbake: Free version-control for writers using git. For the past couple weeks, I've been working with Thomas "cmdln" Gideon (host of the fabulously nerdy Command Line podcast) on a free software project for writers called "Flashbake" (which is to say, I described what I wanted and Thomas wrote the code).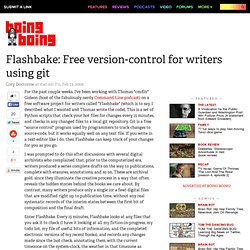 This is a set of Python scripts that check your hot files for changes every 15 minutes, and checks in any changed files to a local git repository. Git is a free "source control" program used by programmers to track changes to source-code, but it works equally well on any text file. If you write in a text-editor like I do, then Flashbake can keep track of your changes for you as you go. Plinky. Write Or Die : Dr Wicked's Writing Lab. While I was working on the Deskop Edition I figured I'd spruce up the online edition as well.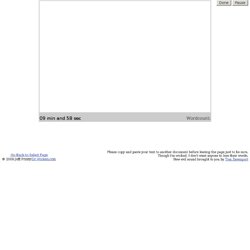 You'll notice nicer, more universally compatible widgets on the right side. And now the text below will preserve your line breaks so you don't have to go back later and clean it up. About a little thing called 750words on 750 Words. Dragon Writing Prompts. Short Stories: 10 Tips for Creative Writers (Kennedy and Jerz) (Dennis G. Jerz, Seton Hill University) Jerz > Writing > Creative > By Kathy Kennedy and Dennis G.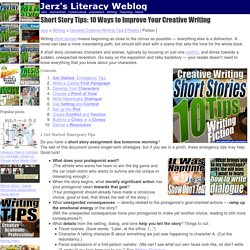 Jerz. Sunday Scribblings. EditMinion. What to do after NaNoWriMo. If you found a month madly dedicated to one project exhilarating amidst the exhaustion :-) there are more challenges throughout the year, some lasting a month, some a week, some 3 days, some 24 straight hours. :-) (The NaNoWriMo folks aren't affiliated with any of these except Script Frenzy.)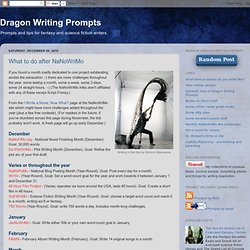 From the I Wrote a Novel, Now What? Page at the NaNoWriMo site which might have more challenges added throughout the year (plus a few free contests). (For readers in the future, if you've stumbled across this page during November, the link probably won't work. A fresh page will go up early December.) DecemberNaNoFiMo.org - National Novel Finishing Month (December). Science Fiction Writer Robert J. Sawyer: How to Write Index.
---