Books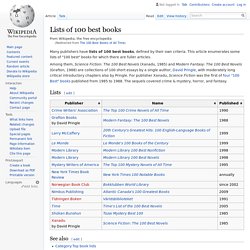 The World Library is a list of the 100 best books, as proposed by one hundred writers from fifty-four different countries, compiled and organized in 2002 by the Norwegian Book Club . This list endeavours to reflect world literature, with books from all countries, cultures, and time periods. Eleven of the books included on the list are written by women, eighty-five are written by men and four have an unknown author. Each writer had to select his or her own list of ten books. The books selected by this process and listed here are not ranked or categorized in any way; the organizers have stated that "they are all on an equal footing," with the exception of Don Quixote which was given the distinction "best literary work ever written."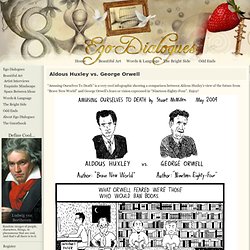 "Amusing Ourselves To Death" is a very cool infographic showing a comparison between Aldous Huxley's view of the future from "Brave New World" and George Orwell's fears or vision expressed in "Nineteen-Eighty-Four". Enjoy! I read "Brave New World" when I was a teenager. It looks like it's time to read it again.
Bedazzled Ink Publishing Company » Nuance Books
World's Greatest Novellas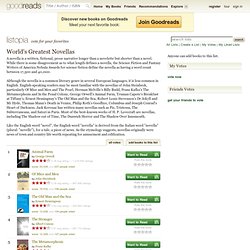 A novella is a written, fictional, prose narrative longer than a novelette but shorter than a novel. While there is some disagreement as to what length defines a novella, the Science Fiction and Fantasy Writers of America Nebula Awards for science fiction define the novella as having a word count between 17,500 and 40,000. Although the novella is a common literary genre in several European languages, it is less common in English.
An Excerpt From "The Late American Novel": The Best Books Will Be Written Long After You Are Dead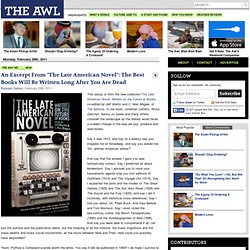 This essay is from the new collection The Late American Novel: Writers on the Future of Books , co-edited by Jeff Martin and C. Max Magee, of The Millions . In the book, Jonathan Lethem, Rivka Galchen, Nancy Jo Sales and many others consider the landscape as the literary world faces a sudden change in the way we buy, produce and read books. Say it was 1910, and say on a breezy day you stopped me on Broadway, and say you asked me: "Sir, whither American letters?" And say that the answer I gave you was fantastically correct. Say I predicted all about Modernism.
[The following is a submission from David Winters, a literary critic who writes for the Times Literary Supplement , the Los Angeles Review of Books , and various other publications. He is a co-editor at 3:AM Magazine . His twitter handle is @davidcwinters , and links to his work are collected at his website, www.whynotburnbooks.com .] Heywood Orren (or "Hob") Broun (1950-1987) published three books in his brief lifetime, none of which are widely known today. But Broun's intense, eccentric fictions ought to be more than a mere footnote to modern American literary history.