Quotes/Words of Wisdom
Hunter S. Thompson quotes. Attitude | Tiny Buddha: Wisdom Quotes, Letting Go, Letting Happiness In - Part 3. Don't Hope Friend....Decide. It's Now Or Never Don't Hope Friend....Decide By Michael D.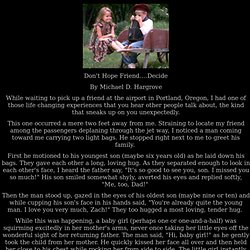 Hargrove While waiting to pick up a friend at the airport in Portland, Oregon, I had one of those life changing experiences that you hear other people talk about, the kind that sneaks up on you unexpectedly. This one occurred a mere two feet away from me. Quotes. A quote by Fred Savage. MusicThoughts. Breakfast at Hunter S. Thompson's | Decadent Lifestyle. "Breakfast is the only meal of the day that I tend to view with the same kind of traditionalized reverence that most people associate with Lunch and Dinner.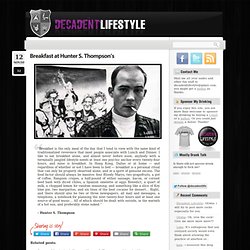 I like to eat breakfast alone, and almost never before noon; anybody with a terminally jangled lifestyle needs at least one psychic anchor every twenty-four hours, and mine is breakfast. In Hong Kong, Dallas or at home — and regardless of whether or not I have been to bed — breakfast is a personal ritual that can only be properly observed alone, and in a spirit of genuine excess. 25 Quotes To Inspire You To Do The Impossible | Blog Of Impossible Things. Famous sayings from Dr. Seuss. Hunter S. Thompson Motivational Posters. While drafting the recent guide outlining the real dangers associated with combining different types of alcohol , I got to thinking about one of the most prominent and outspoken substance-mixers of our time, the late Hunter S.
Thompson. A man who graciously documented the uncharted depths of the binge unlike any other in history, HST provided us with nuggets of wisdom and encouragement all along the way. So instead of merely sharing a list of my favorite quotes from the author, I have placed them in their proper environment, the pervasive motivational poster. 100 Inspiring Quotes & Demanding Joy - StumbleUpon. So many people have said so many things so much better than I will ever be able to.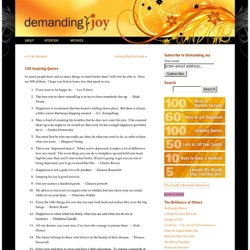 Here are 100 of them. I hope you find at least a few that speak to you. If you want to be happy, be. – Leo Tolstoy The best way to cheer yourself up is to try to cheer somebody else up. – Mark Twain Happiness is excitement that has found a settling down place. But there is always a little corner that keeps flapping around. – E.L. Native American Code Of Ethics | Saved by Slow Death. I recently found these Native American code of ethics - I am unsure of where this originated and of it's accuracy.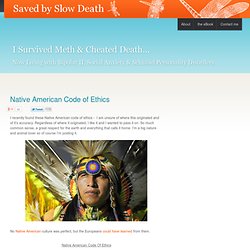 Regardless of where it originated, I like it and I wanted to pass it on. So much common sense, a great respect for the earth and everything that calls it home. I'm a big nature and animal lover so of course I'm posting it. No Native American culture was perfect, but the Europeans could have learned from them. Words of wisdom | Decadent Lifestyle.
---