Lady Lovin'
Get flash to fully experience Pearltrees
my taste in women
15 Aspects That Must Be Recognized In Third-Wave Feminism
1. There must be a widespread understanding that feminism does apply to men. Therefore, men who stand up for feminist issues may, and should, be identified as feminist.
Girls | FRONT – The funniest, sexiest magazine on earth.
Name: Bridget Ione Age: 22 From: South Carolina, USA What are you up to right now? I'm listening to Nacho Picasso drown out the noise of my neighbours' dogs barking next door. Tell us about your tattoos and piercings… I'm more into piercings than tattoos, I have a tattoo of the number 13 I drew up in a tattoo shop in Philly on Friday 13th. There was a deal for 13 dollars, go figure. What's your favourite album ever? I grew up with hip-hop and I have to say every Nas album ever is my fave.
modsmut
HOME
It was just last month that we were back home in SF, and then BAM! today M booked another flight out for March, because jobs are bossy sometimes.
fitforafemme.com
Ten Classic Books Every Lesbian Should Read - Curve Magazine - Web Articles 2009
Kate Lacey Rubyfruit Jungle by Rita Mae Brown (1973) Brown broke new ground with her lesbian love story, and in doing so, gave permission to many girls to put aside their JuicyFruit gum to embrace the rubyfruit within. With great humor and an "everydyke" quality, this 1973 novel remains timeless.
Films
Internal Homophobia
Internalized homophobia. We have all heard the words before, but how many of us are aware that we suffer from it? Do you think you are over it?
The Lesbian Lifestyle
Lesbian News | The Longest-Running National Lesbian Publication
Lesbian National Community Website, Lesbian Resources
Lesbiatopia
Lesbian Travel Guide / Home Girlports
Effing Dykes
Lipstick & Dipstick
Autostraddle
grrlplanet | Get some.
Our Fifteen Minutes | Tracy Ryerson and Stamie Karakasidis
Lesbilicious - the web's tastiest lesbian magazine
Curve Magazine - Lesbian Dating & Personals, Gay-Friendly Travel, Celebrities, Queer Culture
Stories Preview
JJ Levine Photography
This is What a Lesbian Looks Like
Pink News - News, reviews and comment from Europe's largest gay news service
Lesbian Culture Home Page
Stand up comedy videos by Lizzy the Lezzy, the animated lesbian comedian!
Okay, so you've come out to your friends, your family, and your workmates. That just leaves everyone else you'll ever meet Feature by Kirsty Logan . Published 03 January 2010
Don't Ask, Do Tell | The Skinny
Lesbian Quotes | Chain Letters Central
"Are you a lesbian?" – a heckler "Are you my alternative?" – Florynce Kennedy "They say that lesbians hate men. Why would a lesbian hate a man? They don't have to fuck them!"
Soulforce : Freedom for Lesbian, Gay, Bisexual, and Transgender People
The LIKE ME® Organization « Being who you're meant to be The LIKE ME® Organization
The Lesbian Herstory Archives
girlfriend is a homo
Cherry Grrl | Online lesbian entertainment, news, and culture magazine
Asian Lesbians Blog - About Womyn | Asian Lesbians
Dossier Journal » Fashion-Literature-Art-Culture
Proud to Serve is a portrait project by photographer Jo Ann Santangelo , a recent graduate of ICP. She has spent the last two years traveling to 31 states and photographing men and women who served or were discharged under the military's "Don't Ask, Don't Tell" policy. According to Santangelo's introduction to the project, there are an estimated 65,000 gay servicemembers on active duty on the military – all hiding their sexuality – and over 14,000 people who have been discharged for being gay since the policy came into effect in 1993. Given the ongoing problems of military recruitment, it's hard to imagine any reasonable justification for removing competent, committed soldiers from active duty.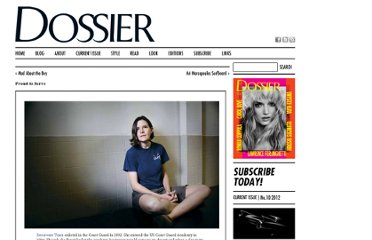 Dossier Journal » Proud to Serve
Velvetpark | Dyke Culture in Bloom
Dyke Republic
Lez Get Real | A Gay Girl's View on the World
Cape Town Lesbians
Card Carrying Lesbian ... What's in your wallet? | A sneak peek into the lives of LA Lesbians: dating, sex, love, life & friends.
Welcome To Pinke.biz
Viktoria Michaelis | Secrets & Desires
Lesbian Resort in Bethlehem, New Hampshire: The Highlands Inn: Vacation Paradise for Women