Luxe & Internet
Salon de Genève : Quant, une voiture électrique qui roule à l'eau salée - Equipements électriques. La popularité des véhicules électriques ne cesse de croître, en grande partie grâce aux efforts Tesla Motors.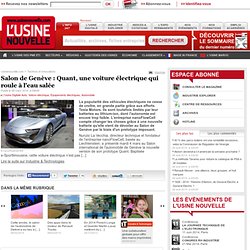 Ils sont toutefois limités par leur batteries au lithium-ion, dont l'autonomie est encore trop faible. L'entreprise nanoFlowCell compte changer les choses grâce à une nouvelle batterie qu'elle vient de dévoiler au Salon de Genève par le biais d'un prototype imposant. Nunzio La Vecchia, directeur technique et fondateur de l'entreprise nanoFlowCell, basée au Liechtenstein, a présenté mardi 4 mars au Salon international de l'automobile de Genève la nouvelle version de son prototype Quant. Baptisée e-Sportlimousine, cette voiture électrique n'est pas [...] Qatar Luxury Group Launches QELA, Luxury Brand And Boutiques. It's not everyday that you get to see a small upstart emerge in the luxury market, let alone a heavy hitter.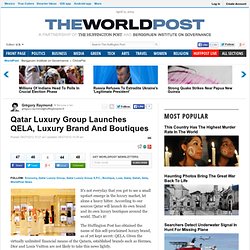 According to our sources Qatar will launch its own brand and its own luxury boutiques around the world. That's it! The Huffington Post has obtained the name of this self-proclaimed luxury brand, as of yet kept secret: QELA. Given the virtually unlimited financial means of the Qataris, established brands such as Hermes, Dior and Louis Vuitton are not likely to take this news lightly. Caroline Guillon, the marketing director of Qatar Luxury Group, which launched the brand, told The Huffington Post, "Since its inception, the goal of our group has been to create a fashion brand in Qatar, and then, in time, expand to an international vocation. Luxe & Social Media. Thèse - Luxe & Réseaux Sociaux.
LUXE. Virtual showroom with the new Azimut Yachts i-Pad App - BYM News. Vicomte A., un aristo au pays du polo. Vrai de vrai, le succès éclair de Arthur de Soultrait, ce créateur de fringues, doit plus à son talent qu'à son pedigree.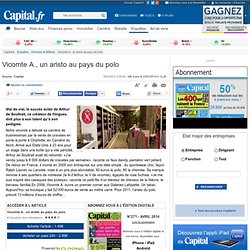 Notre vicomte a débuté sa carrière de businessman par la vente de cravates en porte-à-porte à Charlotte, en Caroline du Nord. Arrivé aux Etats-Unis à 23 ans pour un stage dans une boîte qui a vite périclité, Arthur de Soultrait avait dû rebondir. «J'ai vendu jusqu'à 8 000 dollars de cravates par semaine», raconte ce faux dandy, pantalon vert pétard. De retour en France, il monte en 2005 son entreprise sur une idée simple : du sportswear chic, façon Ralph Lauren ou Lacoste, mais à un prix plus abordable, 60 euros le polo, 80 la chemise. Ferrari Intends To Develop Its First Super Hybrid - Speedlux. Armed gang raids luxury Rio hotel - BBC News. Swatch Group Looks to Move into Diamonds - Swiss Watch Boutique.
Jaeger-LeCoultre Certified By the Responsible Jewellery Council - IDEX Online. Van Cleef & Arpels opens in Selfridges - Retail Jeweller. Karl Lagerfeld to launch two new lines next year. German multitasker Karl Lagerfeld will release two new ranges in January designed to relaunch his namesake brand.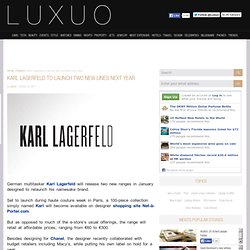 Set to launch during haute couture week in Paris, a 100-piece collection simply named Karl will become available on designer shopping site Net-à-Porter.com. But as opposed to much of the e-store's usual offerings, the range will retail at affordable prices, ranging from €60 to €300. Besides designing for Chanel, the designer recently collaborated with budget retailers including Macy's, while putting his own label on hold for a year. According to the Fashion Foie Gras blog, another line called Karl Lagerfeld Paris will also launch during couture week.
Michelle Yeoh Becomes a Guerlain Ambassador - WWD. Emporio Armani confie sa nouvelle campagne à Mario Sorrenti - La Parisienne.
---