Autism information
Scottish Autism - Home.
The National Autistic Society - Home. Campaign-action-NAS - NAS. A new guide, called Difference in mind, sets out what local councillors need to know about mental health services for children with autism in their area.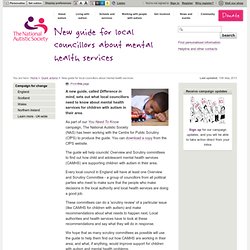 As part of our You Need To Know campaign, The National Autistic Society (NAS) has been working with the Centre for Public Scrutiny (CfPS) to produce the guide. You can download a copy from the CfPS website. The guide will help councils' Overview and Scrutiny committees to find out how child and adolescent mental health services (CAMHS) are supporting children with autism in their area. Every local council in England will have at least one Overview and Scrutiny Committee - a group of councillors from all political parties who meet to make sure that the people who make decisions in the local authority and local health services are doing a good job.
These committees can do a 'scrutiny review' of a particular issue (like CAMHS for children with autism) and make recommendations about what needs to happen next. The National Autistic Society - Media response: the Lamb Inquiry. Sensory Processing Disorder Checklist. Do you have any insights you learned when using the SPD Checklist?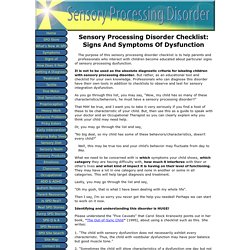 Share it with the readers of Sensory-Processing-Disorder.com! Click below to see contributions from other visitors to this page... Unsure.
---