paper made things
Get flash to fully experience Pearltrees
Paper artist Joel Cooper folds these astounding masks and tessellations from single pieces of paper.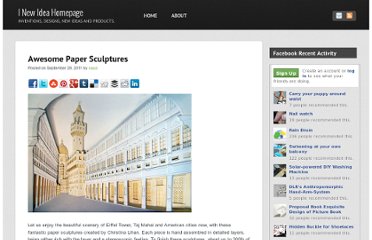 Posted on September 28, 2011 by saya Let us enjoy the beautiful scenery of Eiffel Tower, Taj Mahal and American cities now, with these fantastic paper sculptures created by Christina Lihan.
While the fashion shows were on in October I decided to keep myself busy with something other than shoots and ideas. My friend China is a director and writer and we go and see a lot of movies together and talk alot about the processes, so I thought I would try my hand at filmaking, not to any ends, it really was just an exercise in creativity, I don't think I have a great novel or movie in me, but I get a lot of pleasure from just doing 'stuff'. Best to start small, I would write a short story, 15 mins.
Paper-Cut-Project is an Atlanta studio overflowing with paper craft talent. These wigs are just some of the 20 paper pieces they created for Kate Spade's Lillian Bassman collection window displays.
It's been a whirlwind week for the Anthology team, and we're excited to head into the weekend and enjoy a little late summer sun. Lately I've been drawn to artists with an almost superhuman ability to craft meticulous, intricate designs—be it out of paper , pen , or thread .