Lojinha
French Paper Art Club. Arte da Foto - Fotografia é Arte. The Neat Shop — Home. The Printorium - Crafted in England. Biblioteca.sebrae.com. Art.com - Posters, Art Prints, Framed Art, and Wall Art Collections. Tubos de Papel - Seleção de Empresas de Tubo de Papel | Buscar Tubos. Feira Parte.
Editais
SurveyMonkey: Software de questionário e ferramenta de questionário online gratuitos. Hang-Up Pictures | Bansky Prints | Banksy Art | Limited Edition Prints | Contemporary Art | Street Art | Hang-Up. KAWS. Flesh and Bones by John Sibbick. Loja material arte online. Home page. Graficas. Art Is Forever: A Tattoo Project in Portland | Tattoo. "Art is Forever is a project by Jason Sturgill that attempts to foster a more meaningful connection between the art museum and its visitors.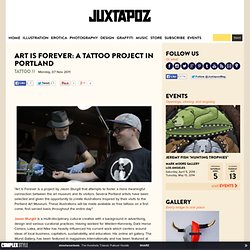 Several Portland artists have been selected and given the opportunity to create illustrations inspired by their visits to the Portland Art Museum. These illustrations will be made available as free tattoos on a first come, first served basis throughout the entire day. " Jason Sturgill is a multi-disciplinary cultural creative with a background in advertising, design and various curatorial practices. Having worked for Wieden+Kennedy, Dark Horse Comics, Laika, and Nike has heavily influenced his current work which centers around ideas of local business, capitalism, sustainability, and education.
Fabio Szwarcwald. Welcome to DeLaMain | DeLaMain. Narvalcomix.
---