Poetry
Web Sound :: Audio By Visual Artists, TELLUS 21. Audio By Visual Artists, TELLUS 21 Joseph Beuys - "Ja Ja Ja Ne Ne Ne", 1970, Mazzotta Editions, Milan, 33 rpm, 500 copies.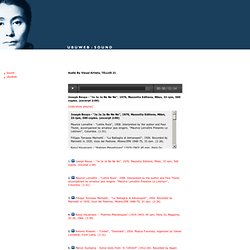 (excerpt 2:00) [hide/show playlist]
Throat-singing
Emmett Williams Cellar Song For Five Voices Mp3 Download. Emmett Williams Cellar Song For Five Voices Save you time, install Mp3Chief.com Quick Search!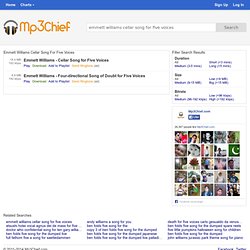 It is the easiest and fastest way to find your favorite songs. Filter Search Results Related Searches. Jackson Mac Low.
Walt Whitman. Un article de Wikipédia, l'encyclopédie libre.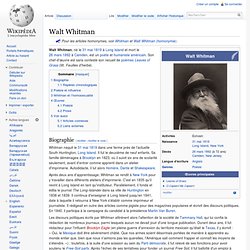 Walt Whitman Œuvres principales Biographie[modifier | modifier le code] Whitman naquit le dans une ferme près de l'actuelle South Huntington, Long Island. E. E. Cummings. Edward Estlin Cummings (October 14, 1894 – September 3, 1962), known as E.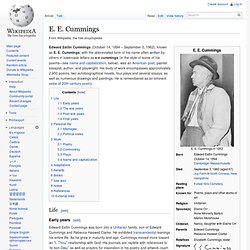 E. Cummings, with the abbreviated form of his name often written by others in lowercase letters as e e cummings (in the style of some of his poems—see name and capitalization, below), was an American poet, painter, essayist, author, and playwright. His body of work encompasses approximately 2,900 poems, two autobiographical novels, four plays and several essays, as well as numerous drawings and paintings. He is remembered as an eminent voice of 20th century poetry. Charles Olson. Charles Olson (27 December 1910 – 10 January 1970) was a second generation American modernist poet who was a link between earlier figures such as Ezra Pound and William Carlos Williams and the New American poets, which includes the New York School, the Black Mountain School, the Beat poets, and the San Francisco Renaissance.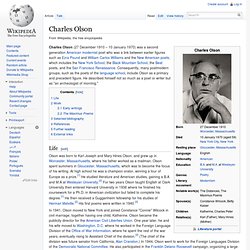 Consequently, many postmodern groups, such as the poets of the language school, include Olson as a primary and precedent figure. He described himself not so much as a poet or writer but as "an archeologist of morning. " Life[edit] Olson was born to Karl Joseph and Mary Hines Olson. and grew up in Worcester, Massachusetts, where his father worked as a mailman. Olson spent summers in Gloucester, Massachusetts, which was to become the focus of his writing. Paterson (poem) Set of first editions Paterson is a poem by influential modern American poet William Carlos Williams.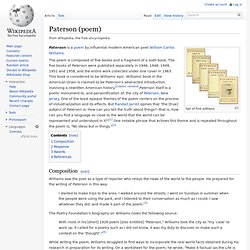 The poem is composed of five books and a fragment of a sixth book. The five books of Paterson were published separately in 1946, 1948, 1949, 1951 and 1958, and the entire work collected under one cover in 1963. This book is considered to be Williams' epic. Dieter Roth. Dieter Roth (April 21, 1930 – June 5, 1998) was a Swiss artist best known for his artist's books, editioned prints, sculptures, and works made of found materials, including rotting food stuffs.[1] He was also known as Dieter Rot and Diter Rot.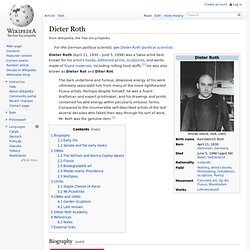 The dark undertone and furious, obsessive energy of his work ultimately separated him from many of the more lighthearted Fluxus artists. Perhaps despite himself, he was a fluent draftsman and expert printmaker, and his drawings and prints contained his wild energy within peculiarly virtuosic forms. Compared to the innumerable self-described artists of the last several decades who faked their way through his sort of work, Mr. Roth was the genuine item.[1] Biography[edit] Rhythm and Race in Modernist Poetry and Science.
---