Poetry
Audio By Visual Artists, TELLUS 21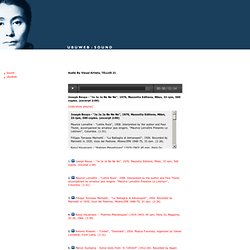 Web Sound :: Audio By Visual Artists, TELLUS 21
Emmett Williams Cellar Song For Five Voices Mp3 Download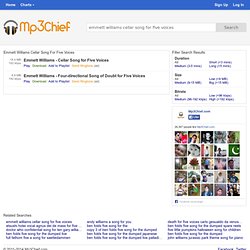 Emmett Williams Cellar Song For Five Voices
Un article de Wikipédia, l'encyclopédie libre.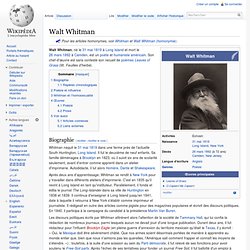 E. E. Cummings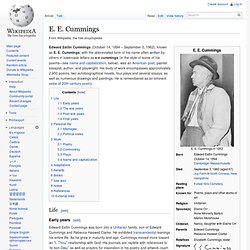 Edward Estlin Cummings (October 14, 1894 – September 3, 1962), known as E.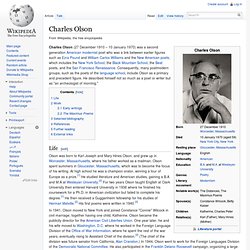 Charles Olson (27 December 1910 – 10 January 1970) was a second generation American modernist poet who was a link between earlier figures such as Ezra Pound and William Carlos Williams and the New American poets, which includes the New York School, the Black Mountain School, the Beat poets, and the San Francisco Renaissance. Consequently, many postmodern groups, such as the poets of the language school, include Olson as a primary and precedent figure.
Charles Olson
Paterson (poem)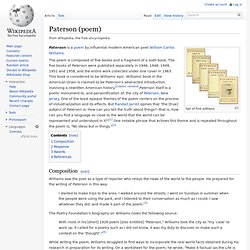 Paterson is a poem by influential modern American poet William Carlos Williams.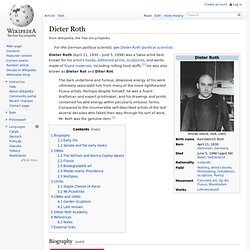 Dieter Roth (April 21, 1930 - June 5, 1998) was a Swiss artist best known for his artist's books, editioned prints, sculptures, and works made of found materials, including rotting food stuffs.[1] He was also known as Dieter Rot and Diter Rot. The dark undertone and furious, obsessive energy of his work ultimately separated him from many of the more lighthearted Fluxus artists.
Dieter Roth
Rhythm and Race in Modernist Poetry and Science