Tutoriels
Installer WordPress en local (Windows) Comme je l'ai indiqué dans la page consacrée à l'installation de WordPress sous Mac OS X, l'installation d'un blog de test est, de mon point de vue, une « obligation » afin de vérifier que les mises à jour de WordPress ou des plugins sont supportées par son blog.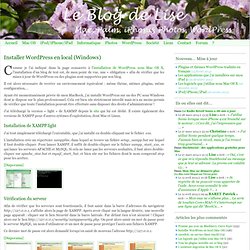 Il est alors nécessaire de recréer un environnement équivalent : même thème, mêmes plugins, même configuration,… Ayant été momentanément privée de mon MacBook, j'ai installé WordPress sur un des PC sous Windows dont je dispose sur le plan professionnel. Cela est bien sûr strictement interdit mais m'a au moins permis de vérifier que toute l'installation pouvait être effectuée sans disposer des droits d'administrateur !
J'ai téléchargé la version « light » de XAMMP depuis le site qui lui est dédié. Il existe également des versions de XAMPP pour d'autres sytèmes d'exploitation, dont Mac et Linux. Gratuit video, Formation gratuite sur Tuto. Se servir des set (durée : 0h07)Les set sont des conteneurs qui garantissent l'unicité des références mais qui ne gardent… Attraper une exception (durée : 0h06)Attraper une exception levée par une méthode que vous avez appelée, est le premier contact… Découvrir les éditions de Java (durée : 0h03)Java existe en plusieurs éditions.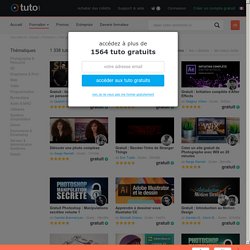 How to Create a Vintage Ocean Liner Poster. The period between the end of the 19th century and World War II is considered the golden age of the ocean liner.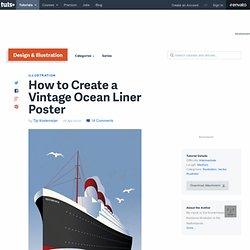 We'll be starting with a basic sketch of an ocean liner I drew up. Of course I encourage everybody to create their own sketch. I'm not really that great at drawing, so if you really want to have a stunningly looking ocean liner, please create it yourself! If you do decide to use your own drawing, you might want to alter or skip a few of the steps. In this tutorial we're going to create a vintage ocean liner poster. Designing a Typeface, With Illustrator and FontLab, from Start to Finish – Part 1. Lets get one thing straight, there is a difference between 'lettering' and 'type design', this can be some serious stuff.
There are people who strictly design letter-forms for their entire lives. They live, breath, eat, sleep, drink and pee typography - I truly admire them. In my personal work I lean towards lettering and don't want to step on any toes by saying this is 'THE' way to design type. This is a way to go about designing a typeface using Ai. Everyone loves letter, so lets have some fun! Vintage Poster Illustrator tutorial. Create an Inspirational Vector Political Poster. This tutorial is inspired by Sheppard Fairey's famous political poster series for the Obama campaign in the US.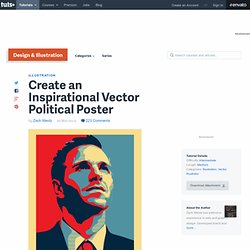 We'll be showing you how to create this style of design. We'll start with basic image editing techniques in Adobe Photoshop to get our guide layers setup, and then we'll jump into Adobe Illustrator. You don't need any fancy equipment to do this. Créez votre thème Wordpress de A à Z. Update du 5 Octobre 2011: les tutoriels ont beau datés de 2007, ils sont en cours de modifications pour y ajouter les fonctionnalités des dernières versions de WordPress.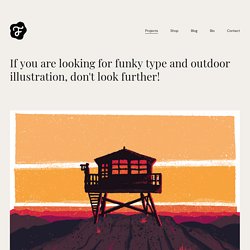 Quoi qu'il en soit, ils sont toujours d'actualité et ont été mis à jour plusieurs fois. Peut-être que vous aimeriez créer votre propre thème pour votre blog et que vous ne savez pas trop comment vous y prendre ? Manipulate Smoke to Create Hyper-Real Images. Learn to apply the Warp Tool effectively and a few other tricks to make smoke look like a skull.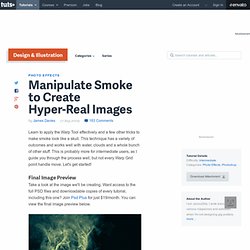 This technique has a variety of outcomes and works well with water, clouds and a whole bunch of other stuff. This is probably more for intermediate users, as I guide you through the process well, but not every Warp Grid point handle move. Let's get started! Final Image Preview. [didactique] Indexhibit Partie 2. Concevoir des thèmes WordPress : utilisation de Firebug et YSlow. Créer un thème Wordpress sous Photoshop.
---