Louise4100
Watch. Katy Perry California Gurls sounds like Ke$ha Tik Tok | Sounds Just Like. The Cook Abides. Miami Heat vs. Denver Nuggets (LeBron James, 35 Pts vs. Ty Lawson, 24 Pts), Jan. 13, 2012. Video. Fn.CH8FF.jpg (JPEG Image, 640 × 471 pixels) Dark Sites. Keybr.com - Take typing lessons, test your typing speed and practice typing for free! Alexandra_08.jpg (JPEG Image, 700 × 933 pixels) - Scaled (92%) 50 Things Everyone Should Know. By Mark and Angel Self-reliance is a vital key to living a healthy, productive life.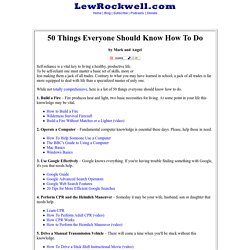 To be self-reliant one must master a basic set of skills, more or less making them a jack of all trades. Recap| Todays Video + OOTD. Video. Get On The Shelf. Stuffed animal. 177-whoissugar Easy Pocahontas inspired hair tutorial!! Project: Wooden Salt Cellar. By Mark Frauenfelder A couple of years ago I whittled a wooden spoon as a thank-you gift for our family friend Valerie, who was my daughter's elementary school art teacher.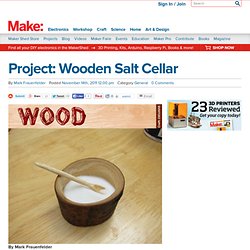 Valerie appreciated it so much that my wife asked me to make another wooden gift for Valerie's upcoming birthday. I thought about it for a while and decided that a salt cellar would not tax my meager skills. For a PDF of this project, visit the build page on Make: Projects. Materials & Tools Wooden branch, about 3″ in diameter Workbench Saw Drill with bits Dremel tool Sandpaper Snap-blade utility knife Beeswax. Haitian Recipes :: Haitian Recipes :: In a large pot, add water and dried mushrooms.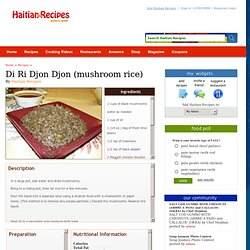 Bring to a rolling boil, then let cool for a few minutes. Pour the liquid into a separate bowl using a strainer lined with a cheesecloth or paper towel. (This method is to remove any excess particles.) Discard the mushrooms. Haitian Recipes :: Haitian Recipes :: Video.
Music. Random fun stuff. Recipes. Jewelry. Art. Ideas about life. Funny pictures. Beautiful homes.
Hairstles.
---