Tools
e-novis : e-novis | l'accelérateur de start-up e-buisness innovantes. Choisissez, votez, financez, participez et devenez les acteurs des startups de demain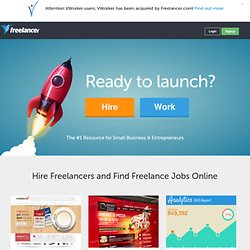 Freelancer.com is the world's largest freelancing, outsourcing, and crowdsourcing marketplace for small business. With over 9 million users, you can hire a freelancer to do your contract work at a fraction of the cost. Whether you need PHP developers, web designers, or content writers, you can outsource jobs within minutes. Browse through hundreds of skills including copywriting, data entry, and graphic design or more technical areas like coding HTML, programming MySQL, and designing CSS.
Projets en cours - The Creativity Market
Elevator pitch | Creation d'entreprise !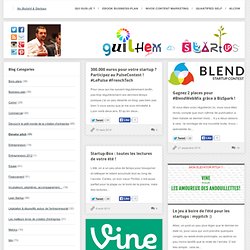 Gagnez 2 places pour #BlendWebMix grâce à BizSpark ! Si vous êtes un(e) régulier(e) ici, vous vous êtes rendu compte que mon rythme de publication a bien baissé ce dernier mois… Il y a deux raisons à cela : le montage de ma nouvelle boite, Invox – spécialiste du... Startup-Box : toutes les lectures de votre été ! L'été, on a un peu plus de temps pour bouquiner et rattraper le retard accumulé tout au long de l'année.