US start up
Incubators - Startup Weekend. Consumer Internet | Benchmark Capital. Food Delivery | Restaurant Delivery | Order Food Online | GrubHub.com. An inside look at jobs & companies. eBags - Largest Selection of Handbags, Backpacks, Luggage & More - eBags. Portfolio | Cambridge West Ventures. Built by Airside Mobile, Airside Express gives airline travelers the power to download their mobile boarding passes to their Apple iPhones and iPod Touches in one simple step and automatically saves mobile boarding passes for instant display at TSA checkpoints and airline gates.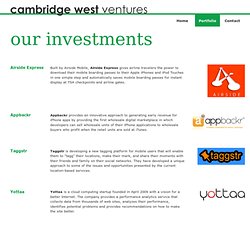 Appbackr provides an innovative approach to generating early revenue for iPhone apps by providing the first wholesale digital marketplace in which developers can sell wholesale units of their iPhone applications to wholesale buyers who profit when the retail units are sold at iTunes. Taggstr is developing a new tagging platform for mobile users that will enable them to "tagg" their locations, make their mark, and share their moments with their friends and family on their social networks.
They have developed a unique approach to some of the issues and opportunities presented by the current location-based services. Yottaa is a cloud computing startup founded in April 2009 with a vision for a better Internet. Web Performance Optimization by Yottaa. Togetherville - The Safe Social Network For Kids. Etsy - Your place to buy and sell all things handmade, vintage, and supplies. Work Market. Outside.in | hyperlocal news in 57,830 neighborhoods.
Dreamit Ventures. Welcome to Campus Sponsorship | Campus Sponsorship. Notehall - Buy and Sell Class Notes. Pocket Tales - Adventures in Reading | Coming Soon. OurShelf - Home. Sleep.FM - The Social Alarm Clock. Order Food Online and More from Restaurants at ClickEats.com | Websites and Hosting for Restaurants. Food Reporter - Photographiez vos plats et partagez-les avec vos amis. 100+ Online Resources That Are Transforming Education. Yury Lifshits is working on algorithms and prototypes of new services at Yahoo!
Research. Before that he was teaching university courses in the U.S., Germany, Russia and Estonia. He blogs at yurylifshits.com and publishes his teaching materials at yury.name/teaching. Education technology has become a busy space in recent years. The Founder Institute: Helping Founders to Build Great Companies. Microsoft BizSpark - Microsoft BizSpark is a global program that helps software startups succeed by giving them access to Microsoft software development tools, connecting them with key industry players, including investors, and providing marketing visibility to help entrepreneurs starting a business.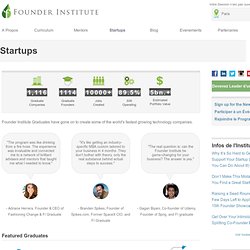 Microsoft BizSpark is a worldwide partner of the Founder Institute, providing software, support, facilities, and mentoring to many entrprenuers within the Fouder Insitute network. Learn more about our partnership here, and sign-up for BizSpark here. Créée en 1989, Brunswick Société d'Avocats accompagne ses clients - investisseurs financiers et PME françaises et internationales et leurs dirigeants - dans leur quotidien et dans leur développement. Organize your plans and access them from anywhere - Plan.fm.
SnapShop - Preview furniture in your own living room using your iPhone. Udemy - Academy of You | Find and Create Online Courses. Claim your visual URL! » buzub. Locamo - Local Questions and Answers - (Los Angeles, Phoenix, Portland, San Diego, San Francisco, Seattle) Browsemob (Beta) CouplesSpark. Olumpo - Find your sport partners. Calendrier, classements et résultats. CashCollie.
---