US start up
Incubators - Startup Weekend
Consumer Internet | Benchmark Capital
Food Delivery | Restaurant Delivery | Order Food Online | GrubHub.com
an inside look at jobs & companies
eBags - Largest Selection of Handbags, Backpacks, Luggage & More - eBags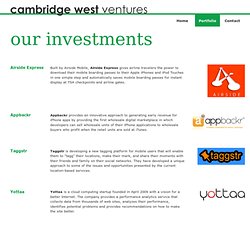 Portfolio | Cambridge West Ventures
Built by Airside Mobile, Airside Express gives airline travelers the power to download their mobile boarding passes to their Apple iPhones and iPod Touches in one simple step and automatically saves mobile boarding passes for instant display at TSA checkpoints and airline gates. Appbackr provides an innovative approach to generating early revenue for iPhone apps by providing the first wholesale digital marketplace in which developers can sell wholesale units of their iPhone applications to wholesale buyers who profit when the retail units are sold at iTunes. Taggstr is developing a new tagging platform for mobile users that will enable them to "tagg" their locations, make their mark, and share their moments with their friends and family on their social networks. They have developed a unique approach to some of the issues and opportunities presented by the current location-based services. Yottaa is a cloud computing startup founded in April 2009 with a vision for a better Internet.
Web Performance Optimization by Yottaa
Togetherville - The Safe Social Network For Kids
Etsy - Your place to buy and sell all things handmade, vintage, and supplies
Close Sign In Using Facebook or Forgot your password? Forgot your username or email? Reopen your account?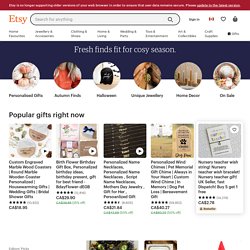 Work Market
Enter your zip code to find your Patch: Patch reports on everything you need to know about your town, from local government to school news to what to do with your family this weekend. And your local Patch makes it easy for you and your neighbors to connect and post your news and events too. All of this, plus comprehensive listings of local restaurants and shops, home improvement services and businesses, events, and more – all in one place – in over 1,000 communities and counting.
Outside.in | hyperlocal news in 57,830 neighborhoods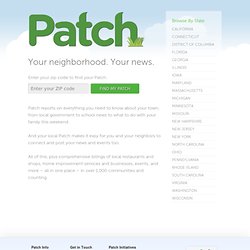 via Tom Cheredar of VentureBeat The second batch of companies to come out of DreamIt Ventures' Austin incubator program pitched to a full room of investors today. Nine companies presented as part of the demo day, which allotted founders seven minutes to make a convincing case for why their company will be successful. VentureBeat has rounded up the five most promising startups, which you can check out below.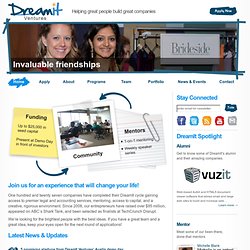 Dreamit Ventures
Browser warning This website is best viewed in the latest version of Internet Explorer. Please update your web browser. Sign up
Welcome to Campus Sponsorship | Campus Sponsorship
Notehall - Buy and Sell Class Notes
"Not only do I love the concept you have started — especially since I can see how much he is retaining as he reads — but it's great quality time that we can spend together." -Shelley, Parent of 7 year old "I introduced it into my classroom and it caught on like wildfire...I've never seen anything like it. They didn't even want to leave the computers to go to lunch." -Mrs.
Pocket Tales - Adventures in Reading | Coming Soon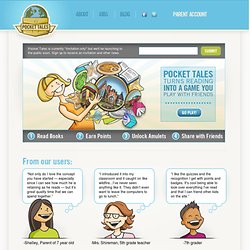 OurShelf - Home
Sleep.FM - The Social Alarm Clock
Order Food Online and More from Restaurants at ClickEats.com | Websites and Hosting for Restaurants
Food Reporter - Photographiez vos plats et partagez-les avec vos amis
Commentaires Food Reporter Devenir Food Reporter S'inscrire | Se connecter | Blog Photographiez et partagez ce que vous mangez Food Reporter est un réseau social culinaire qui permet de partager ce que vous mangez au restaurant et à la maison Découvrir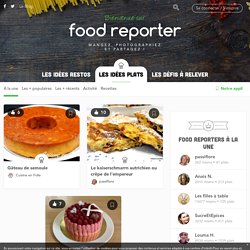 100+ Online Resources That Are Transforming Education
Yury Lifshits is working on algorithms and prototypes of new services at Yahoo! Research. Before that he was teaching university courses in the U.S., Germany, Russia and Estonia. He blogs at yurylifshits.com and publishes his teaching materials at yury.name/teaching. Education technology has become a busy space in recent years.
Microsoft BizSpark - Microsoft BizSpark is a global program that helps software startups succeed by giving them access to Microsoft software development tools, connecting them with key industry players, including investors, and providing marketing visibility to help entrepreneurs starting a business. Microsoft BizSpark is a worldwide partner of the Founder Institute, providing software, support, facilities, and mentoring to many entrprenuers within the Fouder Insitute network. Learn more about our partnership here, and sign-up for BizSpark here. Créée en 1989, Brunswick Société d'Avocats accompagne ses clients - investisseurs financiers et PME françaises et internationales et leurs dirigeants - dans leur quotidien et dans leur développement.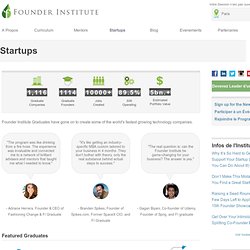 The Founder Institute: Helping Founders to Build Great Companies
Organize your plans and access them from anywhere - Plan.fm
SnapShop - Preview furniture in your own living room using your iPhone
Udemy - Academy of You | Find and Create Online Courses
Claim your visual URL! » buzub
Locamo - Local Questions and Answers - (Los Angeles, Phoenix, Portland, San Diego, San Francisco, Seattle)
Browsemob (Beta)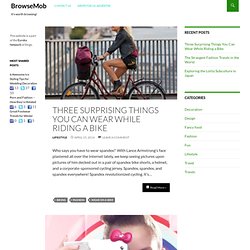 How to Kill Time in the Office Between Tasks Our long drawn working days might seem to be never-ending under certain circumstances, but at times we're destined to meet with sudden downtime. Some of us would commit the mistake of assuming such gaps to be leisure breaks regardless of whether it's a small break worth half an hour or worth a few minutes […]more… Top 6 Bizarre Theme Parks of the World The trend of making theme parks for amusement is increasing day by day.
CouplesSpark
Olumpo - Find your sport partners
Our first partner in Brussels is Huge! We are very proud to be on their website offering to meet partners in Badminton, Fitness and Zumba... Check it out on the dedicated page: Olumpo @stadium Starting with Olumpo? Sign up
Calendrier, classements et résultats
CashCollie