Technology
New Scale Technologie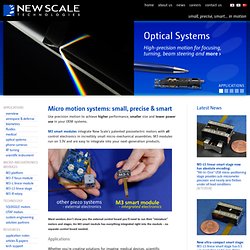 Use precision motion to achieve higher performance, smaller size and lower power use in your OEM systems. M3 smart modules integrate New Scale's patented piezoelectric motors with all control electronics in incredibly small micro-mechanical assemblies. M3 modules run on 3.3V and are easy to integrate into your next-generation products. Most vendors don't show you the external control board you'll need to run their "miniature" motors and stages.
"I felt a great disturbance in the Force, as if millions of voices suddenly cried out in terror and were suddenly silenced. I fear something terrible has happened." ―Obi-Wan Kenobi, referring to the Destruction of Alderaan* Actually, it's not that bad. We're just closing our web store. After years of satisfying your geeky desires for the latest high-tech gizmos, tasteless gadgets, god-awful games, and unique collectibles, our time on the Web has come to an end.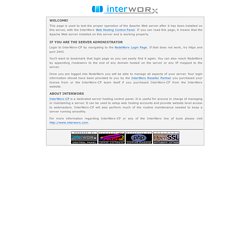 The Antikythera mechanism (Fragment A – front) The Antikythera mechanism (Fragment A – back) The Antikythera mechanism (/ˌæntɨkɨˈθɪərə/ ANT-i-ki-THEER-ə or /ˌæntɨˈkɪθərə/ ANT-i-KITH-ə-rə) is an ancient analog computer[1][2][3][4] designed to predict astronomical positions and eclipses. It was recovered in 1900–1901 from the Antikythera wreck, a shipwreck off the Greek island of Antikythera.[5] Although the computer's construction has been attributed to the Greeks and dated to the early 1st century BC, its significance and complexity were not understood until the 1970s when it was analyzed with modern X-ray technology. Technological artifacts approaching its complexity and workmanship did not appear again until the 14th century, when mechanical astronomical clocks began to be built in Western Europe.[6]