Arduino
AVR MacPack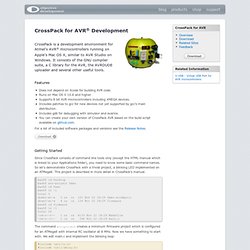 CrossPack is a development environment for Atmel's AVR® microcontrollers running on Apple's Mac OS X, similar to AVR Studio on Windows.
Driving high-power loads with a microprocessor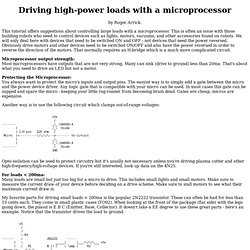 by Roger Arrick. This tutorial offers suggestions about controlling large loads with a microprocessor.
» Howto use AVR Dragon Jtag on Linux (Avarice + avr-gdb +DDD) on Jkx@home » Blog Archive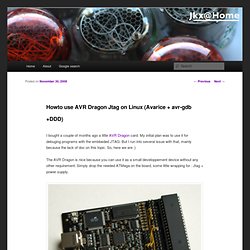 I bought a couple of months ago a little AVR Dragon card.
This article talks about the Diecimila, but there is a newer article that talks about the Duemilanove Here's a departure. Today I'm going to give a little instruction in how to modify an Arduino board so you can actually do something useful with it – like debug it. But first, since my regular reader expects music, here's some music. No warranty is expressed or implied in this.
Modify an Arduino for DebugWIRE « The inability to follow simple instructions