Arduino
Liquidware. AVR MacPack. CrossPack is a development environment for Atmel's AVR® microcontrollers running on Apple's Mac OS X, similar to AVR Studio on Windows.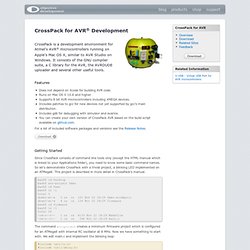 It consists of the GNU compiler suite, a C library for the AVR, the AVRDUDE uploader and several other useful tools. Features Does not depend on Xcode for building AVR code. Runs on Mac OS X 10.6 and higher. Driving high-power loads with a microprocessor. By Roger Arrick.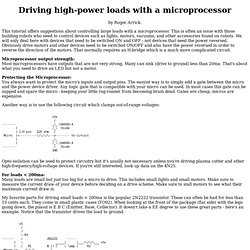 This tutorial offers suggestions about controlling large loads with a microprocessor. This is often an issue with those building robots who need to control devices such as lights, motors, vacuums, and other accessories found on robots. We will only deal here with devices that need to be switched ON and OFF - not devices that need the power reversed. Obviously drive motors and other devices need to be switched ON/OFF and also have the power reversed in order to reverse the direction of the motors.
That normally requires an H-bridge which is a much more complicated circuit. » Howto use AVR Dragon Jtag on Linux (Avarice + avr-gdb +DDD) on Jkx@home » Blog Archive. I bought a couple of months ago a little AVR Dragon card.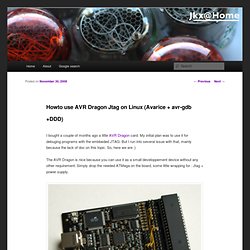 My initial plan was to use it for debuging programs with the embbeded JTAG. But I run into several issue with that, mainly because the lack of doc on this topic. So, here we are ;) Modify an Arduino for DebugWIRE « The inability to follow simple instructions. This article talks about the Diecimila, but there is a newer article that talks about the Duemilanove Here's a departure.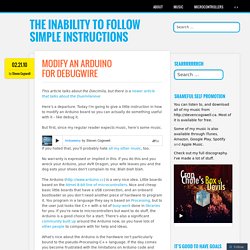 Today I'm going to give a little instruction in how to modify an Arduino board so you can actually do something useful with it – like debug it. But first, since my regular reader expects music, here's some music. If you hated that, you'll probably hate all my other music, too.
---