Google Maps API
Google Maps: 100+ Best Tools and Mashups. Most people think of Google Maps in terms of finding a place or business, or getting directions from one point to another.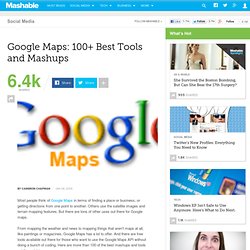 Others use the satellite images and terrain mapping features. But there are tons of other uses out there for Google maps. From mapping the weather and news to mapping things that aren't maps at all, like paintings or magazines, Google Maps has a lot to offer. And there are free tools available out there for those who want to use the Google Maps API without doing a bunch of coding. Beer and Wine on Google Maps. Stag Night Wizard Stag Night Wizard is a Google Maps mash-up designed to help the best man plan a great stag night or weekend.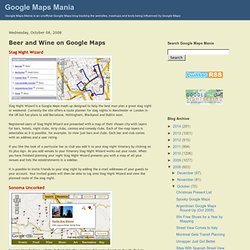 Currently the site offers a route planner for stag nights in Manchester or London in the UK but has plans to add Barcelona, Nottingham, Blackpool and Dublin soon. Home. Isn't it time to upgrade your campus map? | Google Maps Development. Google Maps Development | Connect with proven Google Maps Developers. Google Maps API hands-on training, part 1 | mikejcorey.com.
Go to part two of the trainingPresumed knowledge: HTML Moderate Javascript understanding CSS Basic XMLWhat you'll need: [js light="true"] <html xmlns=" xml:lang="en" lang="en"> <head> <meta http-equiv="content-type" content="text/html; charset=utf-8" /> <title>My awesome first Google map</title> <!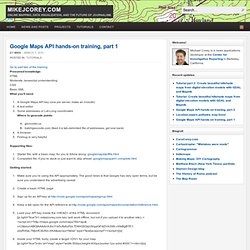 –mikejcorey.com key (will work offline, but not if you upload it to another site)–> <script src=" type="text/javascript"></script> <script language="Javascript"> //<! [CDATA[ var objMap; //A variable we declare early so our map is accessible outside the function that creates it. Going beyond MyMaps 2: Advanced Google Maps API tutorial | mikejcorey.com. – July 26, 2009Posted in: News and posts OK, you've learned to create a basic Google map and call in a static XML file.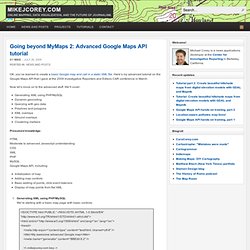 Here's my advanced tutorial on the Google Maps API that I gave at the 2009 Investigative Reporters and Editors CAR conference in March. Now let's move on to the advanced stuff. We'll cover: MappyHour - Happy Hour Map! Performance Dashboard: CenterView Is a Powerful Peformance Dashboard. Google Maps API Tutorial Day 1. The Google Maps API is one of my favorite and also probably the most powerful APIs out there.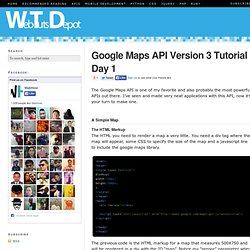 I've seen and made very neat applications with this API, now it's your turn to make one. A Simple Map The HTML Markup The HTML you need to render a map a very little.
---