Películas
Beauty is Embarrassing. Beauty Is Embarrassing is a funny, irreverent, joyful and inspiring documentary featuring the life and current times of one of America's most important artists, Wayne White.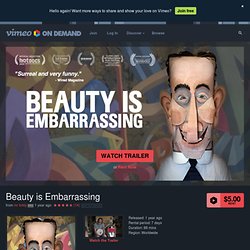 Raised in the mountains of Tennessee, Wayne White started his career as a cartoonist in New York City. He quickly found success as one of the creators of the TV show, Pee-wee's Playhouse, which led to more work designing some of the most arresting and iconic images in pop culture. Most recently, his word paintings, which feature pithy and often sarcastic text statements crafted onto vintage landscape paintings, have made him a darling of the fine art world.
Hit and Run | Site Officiel du Film | Au cinéma le 29 août 2012. Crazy People Trailer. ME AND YOU AND EVERYONE WE KNOW. Man on Wire (2008) Chicken with Plums - Trailer. RIP: A Remix Manifesto. Revenge of the Electric Car. In Revenge of the Electric Car, director Chris Paine takes his film crew behind the closed doors of Nissan, GM, and the Silicon Valley start-up Tesla Motors to chronicle the story of the global resurgence of electric cars.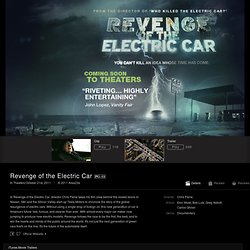 Without using a single drop of foreign oil, this new generation of car is America's future: fast, furious, and cleaner than ever. With almost every major car maker now jumping to produce new electric models, Revenge follows the race to be the first, the best, and to win the hearts and minds of the public around the world. It's not just the next generation of green cars that's on the line.
---