Leyendo
Napoleon Hill Quotes Page 3. Ernest Hemingway Quotes Page 2. Ray Bradbury Quotes Page 2. Bertrand Russell Quotes. Terence McKenna Quotes (Author of Food of the Gods) (page 2 of 3) Efecto Coriolis. Una bolita se mueve sin fricción sobre un plato de sección parabólica que está girando a velocidad constante.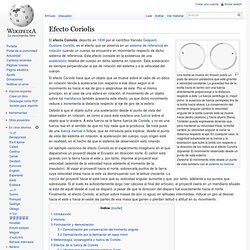 La gravedad tira de la bolita hacia el centro con una fuerza directamente proporcional a la distancia respecto a éste. La fuerza centrífuga (o, mejor dicho, la ausencia de fuerza centrípeta) tira de la bolita hacia afuera. La conservación del momento angular cambia la velocidad angular de la bolita cuando ésta se mueve hacia dentro (acelera) y hacia afuera (frena). También puede expresarse diciendo que, para mantener su velocidad lineal, la bolita cambia su velocidad angular al variar la distancia respecto al eje. Fuerza centrífuga. Fuerza centrípeta (real) y fuerza centrífuga (falsa o ficticia).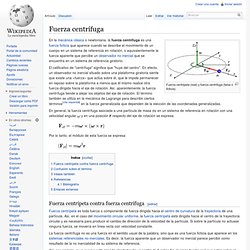 En la mecánica clásica o newtoniana, la fuerza centrífuga es una fuerza ficticia que aparece cuando se describe el movimiento de un cuerpo en un sistema de referencia en rotación, o equivalentemente la fuerza aparente que percibe un observador no inercial que se encuentra en un sistema de referencia giratorio. El calificativo de "centrífuga" significa que "huye del centro". Ugly Duckling Presse | POETRY IS NOT A PROJECT by Dorothea Lasky.
POETRY IS NOT A PROJECT by Dorothea Lasky [West Hollywood] Wed, Apr 9, 7:00 PMVanessa Place and Andrea Fraser exhibit at MAK Center Schindler House[New York, NY] Wed, Apr 23, 6:00 PMBen Lerner and Anna Moschovakis host Anne Portugal and Pierre Alferi at Poets House[New York] Wed, Apr 23, 7:00 PMSix Evening Talks with Andy Fitch at The Kitchen all events >> Unnameable BooksBrooklyn, NY Independent bookstore selling new and used titles. all partner bookstores >>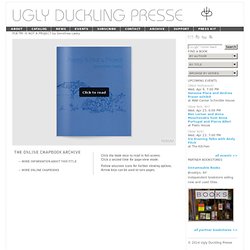 Teoría heliocéntrica. Sistema geocéntrico: órbitas de los planetas vistas desde la Tierra.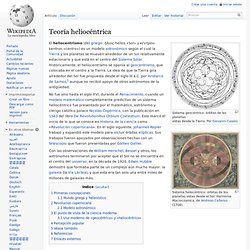 Por Giovanni Cassini. Sistema heliocéntrico: órbitas de los planetas vistas desde el Sol. Tinta China, Revista de Literatura: José Barroeta. José Barroeta Todos han muerto Presentación de Eugenio Montejo Todos han muerto. 1971-2006 (Barcelona, Candaya, 2006) recoge la obra poética completa (incluido el inédito y esperado Elegías y olvidos) de José Barroeta, una de las voces más profundas y turbadoras de la poesía hispanoamericana contemporánea.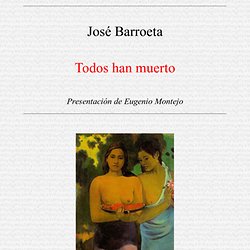 Hallucination. Hallucinations can occur in any sensory modality — visual, auditory, olfactory, gustatory, tactile, proprioceptive, equilibrioceptive, nociceptive, thermoceptive and chronoceptive.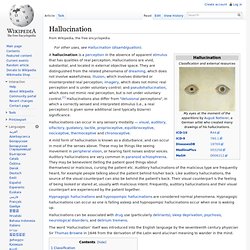 A mild form of hallucination is known as a disturbance, and can occur in most of the senses above. These may be things like seeing movement in peripheral vision, or hearing faint noises and/or voices. Auditory hallucinations are very common in paranoid schizophrenia. They may be benevolent (telling the patient good things about themselves) or malicious, cursing the patient etc. How to Avoid Work: A 1949 Guide to Doing What You Love. By Maria Popova "Life really begins when you have discovered that you can do anything you want."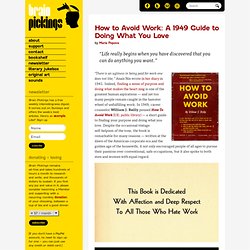 "There is an ugliness in being paid for work one does not like," Anaïs Nin wrote in her diary in 1941. Happy New Year: Pick Up a New Skill. New Year's Eve is a time for reflection about the year that passed and a time to set goals for the future.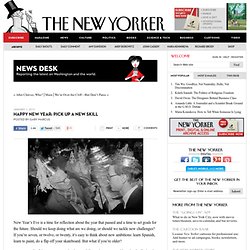 Should we keep doing what are we doing, or should we tackle new challenges? If you're seven, or twelve, or twenty, it's easy to think about new ambitions: learn Spanish, learn to paint, do a flip off your skateboard. On the Road. On the Road is a novel by American writer Jack Kerouac.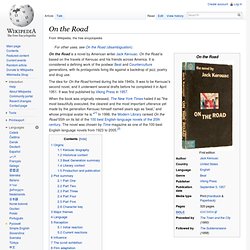 On the Road is based on the travels of Kerouac and his friends across America. It is considered a defining work of the postwar Beat and Counterculture generations, with its protagonists living life against a backdrop of jazz, poetry and drug use. The idea for On the Road formed during the late 1940s.
It was to be Kerouac's second novel, and it underwent several drafts before he completed it in April 1951. It was first published by Viking Press in 1957. The Town and the City. The Town and the City is a novel by Jack Kerouac, published by Harcourt Brace in 1950.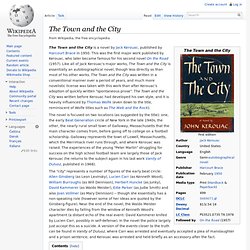 This was the first major work published by Kerouac, who later became famous for his second novel On the Road (1957). Like all of Jack Kerouac's major works, The Town and the City is essentially an autobiographical novel, though less directly so than most of his other works. The Town and the City was written in a conventional manner over a period of years, and much more novelistic license was taken with this work than after Kerouac's adoption of quickly written "spontaneous prose". Hyperreality. Hyperreality is a term used in semiotics and postmodern philosophy to describe an inability of consciousness to distinguish reality from a simulation of reality, especially in technologically advanced post-modern societies. Hyperreality is seen as a condition in which what is real and what is fiction are seamlessly blended together so that there is no clear distinction between where one ends and the other begins.[1] It allows the commingling of physical reality with virtual reality (VR) and human intelligence with artificial intelligence (AI).[2] Individuals may find themselves for different reasons, more in tune or involved with the hyperreal world and less with the physical real world.
Some famous theorists of hyperreality include Jean Baudrillard, Albert Borgmann, Daniel J. The Equation of Time - Why Sundial Time Differs From Clock Time Depending On Time Of Year. It is (at the time of initial writing) 12 December 2004, in Sheffield, United Kingdom. It is now getting dark quite early; but the time of sunset in the afternoon has just about reached its earliest for the season; and we should now gradually be seeing the period of daylight in the late afternoon start to increase again.
But, isn't the shortest period of daylight the winter solstice, on or about the 21st or 22nd of December? Actually, it is; but what we've just been talking about is the period of daylight in the afternoon. The total period of daylight is that in the morning, before noon, plus that in the afternoon. Silviamar: El sonido y los cuencos tibetanos (article in Spanish) 17 Aug 2005 @ 07:58, by Silvia Martínez Los cuencos tibetanos son muy útiles en meditación, equilibrio de chakras, limpieza de energía negativa y también para sanación.
Como dicen algunos maestros Tibetanos, estos cuencos de Tibet emiten "el Sonido del Vacío", el sonido del universo manifestándose. Introducción a los cuencos y campanas tibetanos. A lo largo de la geografía de Gaia, nuestra Madre Tierra, allí donde dirijamos la mirada, veremos que la vida posee vibración. No importa en qué cultura nos encontramos, por poco que nos esforcemos en observar, podremos comprobar que la vibración, el sonido, el ritmo o la música, están siempre presentes. Desde las campanas o los cuencos tibetanos, hasta las tribus de Australia, pasando por las cortezas de árbol del continente africano, el sonido aparece continuamente ante nuestros sentidos. Raw Nerve. Hey vero! Emily Dickinson. Gigabyto.tripod.com/sitebuildercontent/sitebuilderfiles/veranossinlaprimaverasite.pdf.
Stop the stigma of mental illness: Ruby Wax at TEDGlobal 2012. Interesni Kazki - Interviews. Why Flat Organizations Don't Create Great Leaders (& What To Do About It) Psicología evolutiva. Grigori Rasputín. People Buy The Why, Not What. (365) Days of Tumblr. Healthy Delusions? Introduction to Mind and Consciousness. Active imagination. TRES EXPERIENCIAS DE CULTIVO DE TILAPIAS EN LA ISLA DE MARGARITA, VENEZUELA. Www.gutenberg.org/cache/epub/11/pg11.txt. What's the difference between science and art? | Wondermind – Play games and explore the science of your brain. The Official High Times Cannabis Cookbook: More Than 50 Irresistible Recipes That Will Get You High (9781452101330): Editors of High Times Magazine. Pets Quotes. Mark Twain Quotes. The Luxury Journal » Jardines Verticales. DAVID FOSTER WALLACE, IN HIS OWN WORDS. Laureano Márquez: ¡Miedo no! The 11 Best Photography Books of 2011.
Why an Identity Crisis Might Be Just What Your Brain Needs - Mitch Wasden. Take a More Realistic Approach to Your To-Do List with the 3 + 2 Rule. Acertijo lógico. Prehistoria. Dào Dé Jing. Texto02. Oliviero Toscani: "Los artistas tienen el deber de provocar" Los doce trabajos de Heracles. Psychology... El fútbol, la liberación mortal de Bob Marley.
---