Tech
Si vous bloguez, vous savez qu'il y a des dizaines de sites qui pompent votre contenu et le publient sur leur espace. Cette forme de publication se nomme le plagiat. Google offre la possibilité de lier le contenu que vous publiez à votre profil Google+.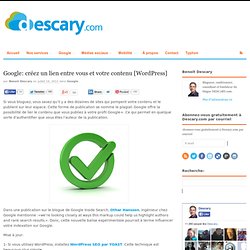 Google: créez un lien entre vous et votre contenu [Wordpress] | Descary
Antoine, fidèle lecteur de Korben.info et talentueux développeur, m'a écrit il y a quelques temps pour que je jette un oeil sur son projet Archipel. J'ai trouvé ça tellement génial, que je me suis dit que ça pourrait vous intéresser. Archipel utilise le framework Cappucino, est open source et dispo sur cette page. Niveau install c'est pas trivial, c'est quand même une solution orientée entreprise et datacenter.
Archipel – Gérez vos machines virtuelles KVM, OpenVZ, Virtualbox, Xen, VMware avec un seul outil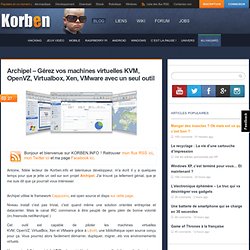 What we have for you today are a selection of free high-resolution corporate identity mockup templates that will allow you to create your own professional personal branding with ease. The templates are all in PSD… Collaboration is how things are accomplished these days.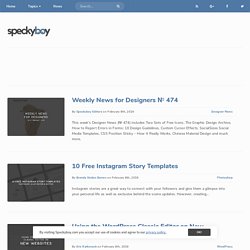 Par Olivier Duffez, Jeudi 30 juin 2011 Peut-être avez-vous mis sur votre site les fameux boutons de partages sur les réseaux sociaux, mais savez-vous s'ils sont cliqués et par qui ? Comment repérer le comportement sur votre site des internautes qui ont cliqué ? Voici un tutoriel complet en français expliquant comment faire le tracking du social dans Google Analytics. Les statistiques Google Analytics des clics sur les boutons de partage Une fois que vous aurez bien configuré le tracking des clics sur ces jolis boutons qui ont fleuri sur votre site (j'explique comment faire ci-dessous), vous pourrez contempler les résultats dans Google Analytics.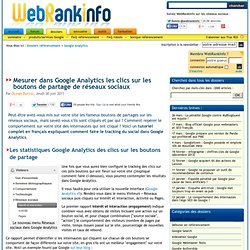 Tracking Google Analytics des boutons de partage de réseaux sociaux
Hacking Google Analytics: Ideas, Tips and Tricks
Web analytics is a powerful tool made accessible to all of us through awesome free software such as Google Analytics. These tools are designed to satisfy the general needs of every kind of website out there. That's why website analytics tools, in general, are very good at offering a fundamental overview of traffic data of a site, but not so good when it comes to answering specific questions. To get specific questions answered, sometimes you have to work around limitations of your current software.
Mes indispensables plugins SPIP - Le b10g