Academics and jobs
How to be Productive and Still Get 8 Hours Sleep. Yes, you read that right.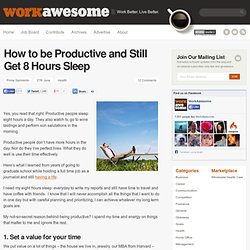 Productive people sleep eight hours a day. They also watch tv, go to wine tastings and perform sun salutations in the morning. Diana Hacker: Grammar Exercises. PowerPapers - Your source for professionally written Term Papers, Book Reports, Essays, Theses, Dissertations and more. Become a Volunteer - Beth Israel Deaconess Medical Center. Thank you for your interest in becoming a volunteer at BIDMC.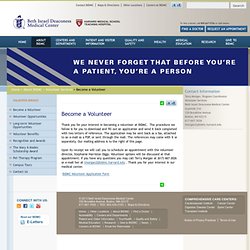 The procedure we follow is for you to download and fill out an application and send it back completed with two letters of reference. The application may be sent back as a fax, attached to an e-mail as a PDF, or sent through the mail. The references may come with it or separately. Our mailing address is to the right of this page. Upon its receipt we will call you to schedule an appointment with the volunteer director, Stephanie Harriston Diggs. Summer Undergraduate Research Programs - Graduate Research, Education, and Training (GREAT) Group - Member Communities. Albert Einstein College of MedicineBronx, NYSummer Undergraduate Research Program Boston University School of MedicineBostonSummer Training as Research Scholars (STaRS) Baylor College of MedicineHoustonSummer Medical and Research Training Program (SMART) Case Western Reserve UniversityClevelandSummer Undergraduate Research in Pharmacology Children's Hospital Research Foundation of CincinnatiCincinnatiDivision of Developmental BiologyUndergraduate Summer Student Program City of Hope National Medical Center and Beckman Research InstituteDuarte, CAEugene and Ruth Roberts Summer Student Academy.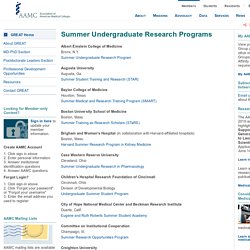 Sita Sings the Blues. BWH Biomedical Research Institute: Laboratories and Research Projects. Brigham and Women's Hospital's departments and divisions are reputed for their excellence in research.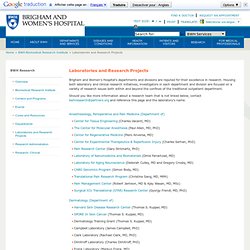 Housing both laboratory and clinical research initiatives, investigators in each department and division are focused on a variety of research issues both within and beyond the confines of the traditional outpatient department. Should you like more information about a research team that is not linked below, contact bwhresearch@partners.org and reference this page and the laboratory's name. Anesthesiology, Perioperative and Pain Medicine (Department of) Dermatology (Department of)
Chapter 23 Anatomy flashcards. Natural Pools or Swimming Ponds - StumbleUpon. Natural Pools or Natural Swimming Ponds (NSPs) Let nature clean the water...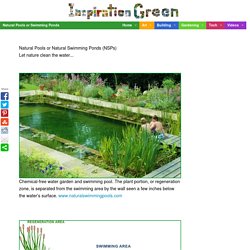 Chemical-free water garden and swimming pool. The plant portion, or regeneration zone, is separated from the swimming area by the wall seen a few inches below the water's surface. www.naturalswimmingpools.com The pools have skimmers and pumps that circulate the water through the regeneration zone and back into the swimming area.
MCAT Verbal Edge.
---