Tips and tricks
A new micro clearfix hack. The clearfix hack is a popular way to contain floats without resorting to using presentational markup.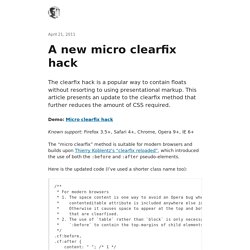 This article presents an update to the clearfix method that further reduces the amount of CSS required. Demo: Micro clearfix hack Known support: Firefox 3.5+, Safari 4+, Chrome, Opera 9+, IE 6+ Modern.IE: Testing made easier in Internet Explorer | modern.IE | Microsoft. Email Address Encoder. Last Updated: Tuesday, February 22, 2011 This form will allow you to encode your e-mail address through the use of Character Entities, transforming your ascii email address into its equivalent decimal entity.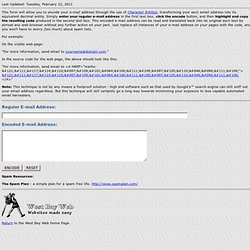 Simply enter your regular e-mail address in the first text box, click the encode button, and then highlight and copy the resulting code produced in the second text box. This encoded e-mail address can be read and translated back into its original ascii text by almost any web browser without any further action on your part. Just replace all instances of your e-mail address on your pages with the code, and you won't have to worry (too much) about spam lists. A Simple Parallax Scrolling Technique.
Parallax scrolling is an interesting technique, where, as you scroll, the background images translate slower than the content in the foreground, creating the illusion of 3D depth.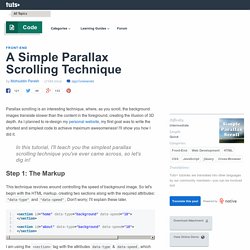 As I planned to re-design my personal website, my first goal was to write the shortest and simplest code to achieve maximum awesomeness! I'll show you how I did it. In this tutorial, I'll teach you the simplest parallax scrolling technique you've ever came across, so let's dig in! Shapecatcher: Draw the Unicode character you want!
Vérifiez la compatibilité navigateur, test de navigateur et de plate-forme. - Browsershots. Web Development Tools. 17,.67,.83,.67) ✿ cubic-bezier.com. Ultimate IE6 Cheatsheet: How To Fix 25+ Internet Explorer 6 Bugs.
InShare33 The best strategy for dealing with Internet Explorer 6 is not to support it.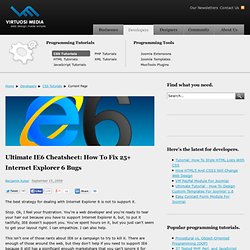 Stop. Ok, I feel your frustration. PunyPNG - PNG Compression and Image Optimization - Gracepoint After Five. Convertisseur de caractères et de codages Unicode. Fake images please? {placekitten}
---