Social Media
Easy. Powerful. Social. Fan Page Platform. Facebook's Timeline for Pages offers marketers great opportunities!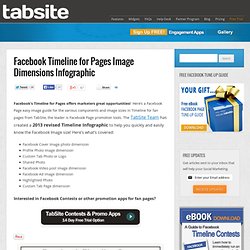 Here's a Facebook Page easy image guide for the various components and image sizes in Timeline for fan pages from TabSite, the leader is Facebook Page promotion tools. The TabSite Team has created a 2013 revised Timeline Infographic to help you quickly and easily know the Facebook Image size! Here's what's covered: Facebook Cover Image photo dimensionProfile Photo Image dimensionCustom Tab Photo or LogoShared PhotoFacebook Video post image dimensionFacebook Ad Image dimensionHighlighted PhotoCustom Tab Page dimension Interested in Facebook Contests or other promotion apps for fan pages? Inside Facebook's Outsourced Anti-Porn and Gore Brigade, Where 'Camel Toes' are More Offensive Than 'Crushed Heads' A camel toe is not a vulva, nor does it have a more proper name.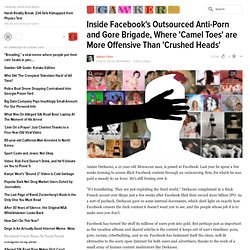 Er, well, not just a vulva. I think it's clear to everyone that your labia cannot be visible in your profile picture. I had never heard the term "moose knuckle" before. Bouton +1. Documentation You can add and customize the +1 button to meet the needs of your website, such as modifying the button size and load technique.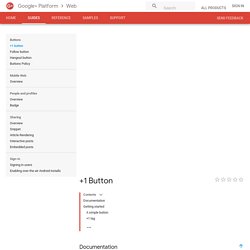 By adding the +1 button to your website, you allow your users to recommend your content to their circles and drive traffic to your site. The +1 button can also improve the time spent on your site by providing recommendations for further reading. Use of the +1 button is subject to the Google+ Platform Buttons policy. Getting Started. Like Button - Développeurs Facebook. Why are people seeing a 'Confirm' button when they click on my Like button?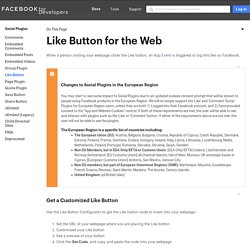 There are integrity and spam-prevention safeguards built into social plugins, and this is one of them. If you have been heavily testing a Like button before launching, you may have inadvertently triggered these safeguards. Comment personnaliser sa Like Box Facebook. Vous aussi vous trouvez que la Like Box Facebook ne s'intègre pas bien à votre site internet ou votre blog ?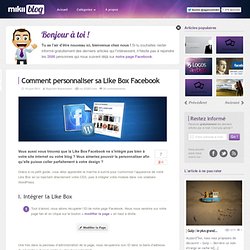 Vous aimeriez pouvoir la personnaliser afin qu'elle puisse coller parfaitement à votre design ? Grâce à ce petit guide, vous allez apprendre la marche à suivre pour customiser l'apparence de votre Like Box en lui injectant directement votre CSS, puis à intégrer votre module dans vos sidebars WordPress. Tweet Button.
---