Social Media
Easy. Powerful. Social. Fan Page Platform.
A camel toe is not a vulva, nor does it have a more proper name. Er, well, not just a vulva. I think it's clear to everyone that your labia cannot be visible in your profile picture. I had never heard the term "moose knuckle" before.
Inside Facebook's Outsourced Anti-Porn and Gore Brigade, Where 'Camel Toes' are More Offensive Than 'Crushed Heads'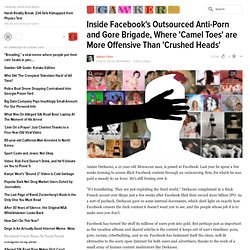 bouton +1
Documentation You can add and customize the +1 button to meet the needs of your website, such as modifying the button size and load technique. By adding the +1 button to your website, you allow your users to recommend your content to their circles and drive traffic to your site. The +1 button can also improve the time spent on your site by providing recommendations for further reading. Use of the +1 button is subject to the Google+ Platform Buttons policy. Getting Started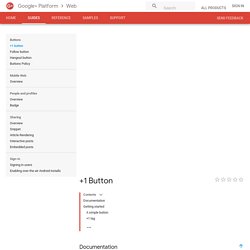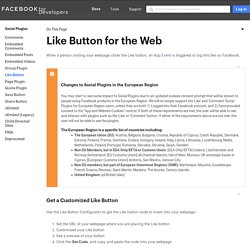 Why are people seeing a 'Confirm' button when they click on my Like button? There are integrity and spam-prevention safeguards built into social plugins, and this is one of them. If you have been heavily testing a Like button before launching, you may have inadvertently triggered these safeguards.
Like Button - Développeurs Facebook
Comment personnaliser sa Like Box Facebook
Vous aussi vous trouvez que la Like Box Facebook ne s'intègre pas bien à votre site internet ou votre blog ? Vous aimeriez pouvoir la personnaliser afin qu'elle puisse coller parfaitement à votre design ? Grâce à ce petit guide, vous allez apprendre la marche à suivre pour customiser l'apparence de votre Like Box en lui injectant directement votre CSS, puis à intégrer votre module dans vos sidebars WordPress.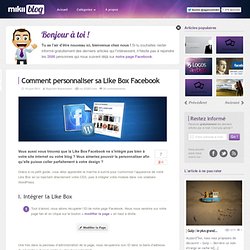 Tweet Button