Social Media
Easy. Powerful. Social. Fan Page Platform.
I've yet to delve into the Scribd file, but one of the first things that occurred to me is that since a lot of the content is automatic deletions and doesn't need to be passed up the chain, there's nothing to stop an underpaid contract employee from archiving banned images and putting them on fetish and niche sites. Maybe that's where some of that "scoured from Facebook" porn comes from that is often advertised, plus there used to be a Usenet group and bulletin board services that hosted bloody, gory photos, so there may be a market for them. Though, I suspect the traffic to those types of sites would be from a very narrow audience and not as vast as those seeking nude self-portraits and other types of porn.
Inside Facebook's Outsourced Anti-Porn and Gore Brigade, Where 'Camel Toes' are More Offensive Than 'Crushed Heads'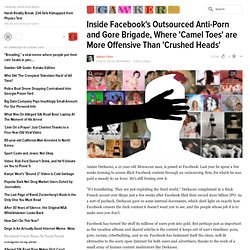 bouton +1
Documentation You can add and customize the +1 button to meet the needs of your website, such as modifying the button size and load technique. By adding the +1 button to your website, you allow your users to recommend your content to their circles and drive traffic to your site. The +1 button can also improve the time spent on your site by providing recommendations for further reading. Use of the +1 button is subject to the Google+ Platform Buttons policy. Getting Started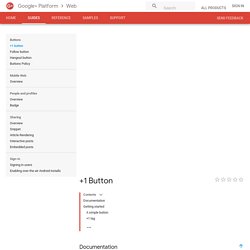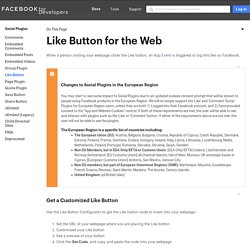 Should I display the Like button by itself or the Like and Share buttons together? Like lets people post links to Facebook with one click, while Share allows them to add a personal message and customize their target audience before posting. We recommend that you include both buttons on your website to let people choose the way that they want to share your content.
Like Button - Développeurs Facebook
Comment personnaliser sa Like Box Facebook
Vous aussi vous trouvez que la Like Box Facebook ne s'intègre pas bien à votre site internet ou votre blog ? Vous aimeriez pouvoir la personnaliser afin qu'elle puisse coller parfaitement à votre design ? Grâce à ce petit guide, vous allez apprendre la marche à suivre pour customiser l'apparence de votre Like Box en lui injectant directement votre CSS, puis à intégrer votre module dans vos sidebars WordPress.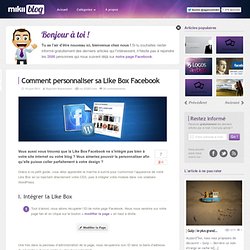 Tweet Button