Fukushima
FUKUSHIMA the effects of radiation on daily life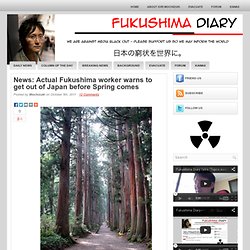 Posted by Mochizuki on October 5th, 2011 · 12 Comments Children have already started to have thyroid problems "even though they evacuated". It was assumed to take 5 years but the symptoms are showing up much faster than we ever thought. Now it's known that most part of the plume is stuck to the trees or soil in the mountains, where you can hardly decontaminate. Last night, the actual Fukushima worker Happy20790 tweeted these below:
News: Actual Fukushima worker warns to get out of Japan before Spring comes
Tokyo radiation hotspot 'not linked to Fukushima'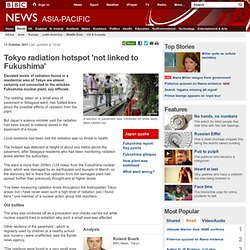 13 October 2011Last updated at 13:42 A section of pavement was cordoned off while tests were carried out Elevated levels of radiation found in a residential area of Tokyo are almost certainly not connected to the stricken Fukushima nuclear plant, say officials. The reading, taken on a small area of pavement in Setagaya ward, had fuelled fears about the possible effects of radiation from the plant. But Japan's science minister said the radiation had been traced to material stored in the basement of a house. Local residents had been told the radiation was no threat to health.
xkcd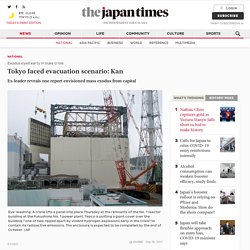 Tokyo faced evacuation scenario: Kan
In the days immediately after the crisis began at the Fukushima No. 1 nuclear power plant, the government received a report saying 30 million residents in the Tokyo metropolitan area would have to be evacuated in a worst-case scenario, former Prime Minister Naoto Kan revealed in a recent interview. Kan said he contemplated the chaos that would ensue if such a measure were taken. "It was a crucial moment when I wasn't sure whether Japan could continue to function as a state," he said. After the March 11 earthquake and tsunami crippled the plant, Kan instructed several entities to simulate a worst-case scenario.