Sandwiches
Kings Hawaiian Baked Ham & Swiss Sandwiches | Recipe Schmessipe. Coming Soon!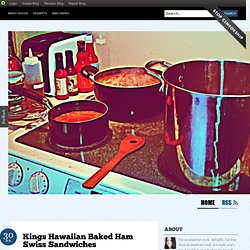 Ingredients 1 12 pack of King's Hawaiian Original Rolls 1 lb. deli ham, shaved 1 lb. Swiss cheese, thinly sliced 1 1/2 sticks butter 3 tablespoons Dijon mustard 1 1/2 teaspoons Worcestershire sauce 3 teaspoons of poppy seeds 1 onion, chopped Directions. Ham and Cheese Sliders. I know what you are thinking…ham and cheese sliders; does that really require a recipe?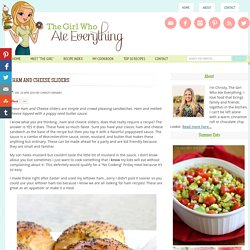 The answer is YES it does. These have so much flavor. Hawaiian Sweet Roll Ham Sandwiches. Egg and Cheese Breakfast Sandwiches. Admin Note: Since this post, I've remade these using a better technique.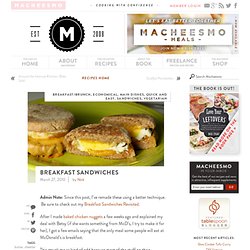 Be sure to check out my Breakfast Sandwiches Revisited. After I made baked chicken nuggets a few weeks ago and explained my deal with Betsy (if she wants something from McD's, I try to make it for her), I got a few emails saying that the only meal some people will eat at McDonald's is breakfast. This struck me as kind of odd because most of the stuff on their breakfast menu is even easier to reproduce at home than the stuff on their other menus. Dripping Beef Sandwiches. Today's recipe would be prefect for a weekend lunch or a quick dinner.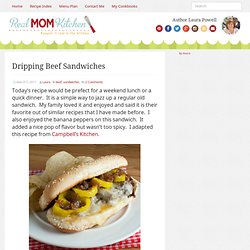 It is a simple way to jazz up a regular old sandwich. My family loved it and enjoyed and said it is their favorite out of similar recipes that I have made before. I also enjoyed the banana peppers on this sandwich. It added a nice pop of flavor but wasn't too spicy. I adapted this recipe from Campbell's Kitchen. French Dip Sandwiches. This is the single most-requested, best-loved, raved-about recipe on my personal blog.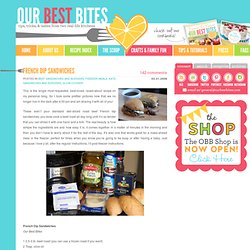 So I took some prettier pictures now that we no longer live in the dark after 4:00 pm and am sharing it with all of you! These aren't your standard deli-sliced roast beef French dip sandwiches; you slow-cook a beef roast all day long until it's so tender that you can shred it with one hand and a fork. The real beauty is how simple the ingredients are and how easy it is; it comes together in a matter of minutes in the morning and then you don't have to worry about it for the rest of the day.
Favorite Family Recipes: Our Version of White Castle Sliders. Here is one for all of you out on the East Coast (there aren't any White Castle's out here in the West).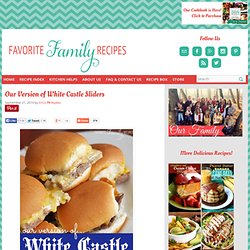 These White Castle Sliders are SO GOOD! I have only had a White Castle burger once, and it was long long ago.. but I remember that it was good. I found this recipe on the Cooking With Carrie Blog and I made a few changes. These turned out so good! Best Ever Beef Dip Sandwich. You all know how much I love to use my slow cooker!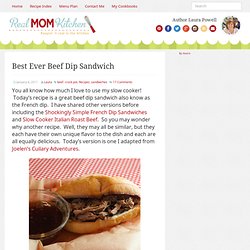 Today's recipe is a great beef dip sandwich also know as the French dip. I have shared other versions before including the Shockingly Simple French Dip Sandwiches and Slow Cooker Italian Roast Beef. So you may wonder why another recipe. Well, they may all be similar, but they each have their own unique flavor to the dish and each are all equally delicious. Cheddar Cheese French Dips. Sometimes you need a meal that you can throw together in minutes.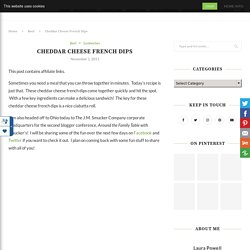 Today's recipe is just that. This sandwich comes together quickly and hits the spot. With a few key ingredients can make a delicious sandwich! The key for this one is a nice ciabatta.
---